R.G.H. Siu - The Craft of Power.pdf (3.9 MB)
http://www.aryanalibris.com/index.php?p … t-of-Power
Craft_of_Power_Audiobook.zip (206.8 Mo)
https://mega.co.nz/#!qYdhTAhL!Kl7hsRuqk … -XnN91-6Gk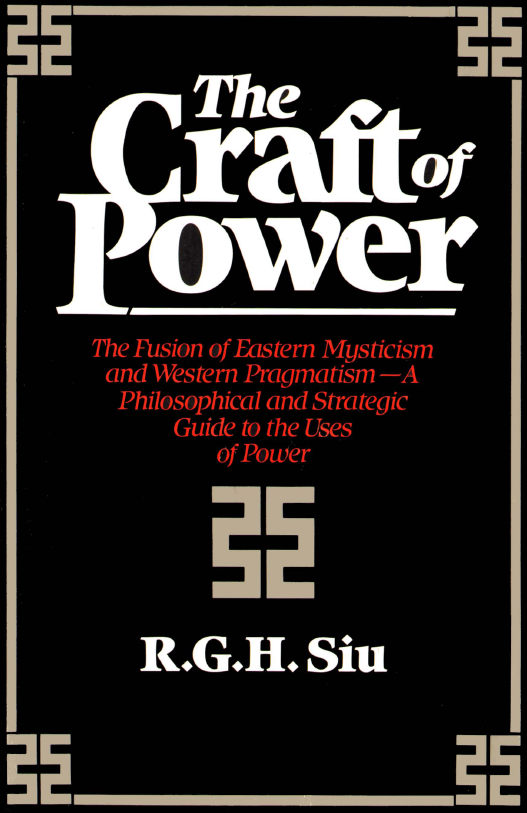 "Fortify yourself against the likes of you."
The Craft of Power teaches many things :
Crime, it is here to stay—be versed
A power play without money can only be a farce
Mix blame with pain in your punishments
Expect foul play
Coil yourself omnidirectionally
Be quick in masking yourself and unmasking others
Martyrs must be honored if power is to flourish
Never confuse exhilaration with power
Never, never, never, never outshine the big boss
This remarkable book presents a step-by-step system to develop an appreciation of the underlying principles of personal power and its enhancement.
A compelling blend of erudition, wit, storytelling, cynicism, morality, and practicality, The Craft of Power is profuse with techniques for managing people and organizations, for developing a personal philosophy of power, and for implementing this philosophy.
If you can live with it, it can live with you. Let not the wailing and groaning of the innocent weaken your will to win and keep.
R.G.H. Siu received his Ph.D. in chemistry from the California Institute of Technology. He has worked for Harvard, the Army, the Department of Justice, the Panel on the Peaceful Uses of Atomic Energy of the Joint Congressional Committee on Atomic Energy, and as Chairman of Members of the Academy for Contemporary Problems, and has lectured all over the world to academic and business groups. Most recently he has been an independent consultant in corporate strategy, research and development management, and social problems. Among his books are The Tao of Science and, forthcoming from Quill, Transcending the Power Game: The Way to Executive Serenity.
Contents:
PART I POWER POSTURE
PART II OPERATIONAL SPECIFICS
ENTERING THE ARENA
I. Nature of power
2. Minidemocracies
3. Executives and persons of power
4. Theories on power
5. Justifications
LEARNING THE FUNDAMENTALS
6. Professionalism
7. Skepticism and vigilance
8. The big game
9. King makers
10. Capacity limitations
II. Illicit means
12. Legal porosity and elasticity
13. Associated sufferings
14. Custom
15. Myth
16. Efficiency
17. Time constraints
18. Indices of progress
19. Levelheadedness
20. Mortgage payments
21. Treatment of cadre
22. Constituency
HONING STRATEGIES AND TACTICS
23. The eight axioms
24. Offense
25. Defense
26. Interstitialist
27. Subterranean
28. Opportunist
29. Permeator
30. Coalition
VECTORING RESOURCES
31. Para proprietary control
32. People
33. Money
34. Indentitive inducements
35. Push-pull
36. Nonviolence
37. Gut feeling
SHAPING COMMUNICATIONS
38. Need to know
39. Private channels
40. Data translation
41. Intelligence
42. Integrative principle
43. Orthopraxy
44. Propaganda methods
ORCHESTRATING CEREMONIES
45. Strategy reinforcement
46. Participation
47. Credibility
48. Reasonableness
49. Consensus
50. Objective expertise
51. Legitimacy
52. Loftiness
53. Higher authority
54. A winner
MANEUVERING AND STRIKING
55. Ready flexibility
56. Propitiousness
57. Three sets of three questions
58. N-cushion billiard
59. Injected hopelessness
60. Concomitant blame
61. Adaptive centrality
62. Multifaceted speed
63. Surprise
64. Chinese baseball
65. Antisocial context
66. Interpretive prerogative
67. Law of reversal
68. Consolidation
69. Instant focus of relevant totality
NEGOTIATING AND PRESSING ON
70. Cessation of active confrontation
71. Conduct of negotiation
72. Consummation
73. Continuum of power
REFLECTING ON MORALITY
74. Ends and means
75. Bigness
76. Institutional power amplification
77. Depersonalization
78. Personal options
79. Duty
80. Compassion
81. Nobility
Last edited by Dejuificator (29-10-2010 21:09:31)