Kevin Trudeau - Mega Memory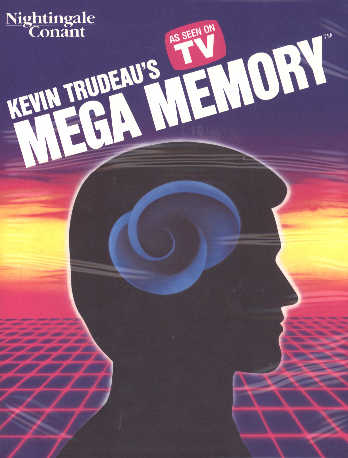 Kevin Trudeau - Mega Memory.zip 46.5 Mo
https://mega.co.nz/#!axFw2L7D!EfUfPne6h … 6HkGGFD5m8
Trudeau Kevin - Mega memory workbook
http://www.aryanalibris.com/index.php?p … y-workbook
Trudeau Kevin - Mega memory pocket guide
http://www.aryanalibris.com/index.php?p … cket-guide
Kevin Trudeau - PDF
http://www.aryanalibris.com/index.php?c … deau-Kevin
Switch on Your Own Mega Memory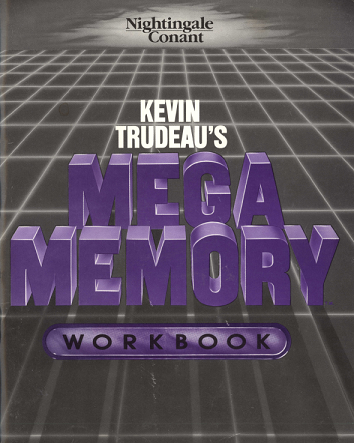 Before you listen to the first tape... before you begin the exercises in the workbook...
Kevin Trudeau wants you to understand one thing about yourself :
YOU CAN IMPROVE YOUR MEMORY BY 500% OR MORE!
There is no such thing as a good or bad memory, only a trained or untrained memory!
You can access the area of your brain that never forgets. It's called the knowledge bank, and it stores information like your name, the alphabet, words to nursery rhymes you learned as a child and events in your life that you can never forget. Information in the knowledge bank is permanent.
The easy-to-follow techniques in the MEGA MEMORY program actually teach you to hook new information into the knowledge bank. These techniques stimulate neurotransmitters in your brain to instantly increase your memory and mental capacity.
After just a few short hours with this program, your memory dramatically improves. In fact, your new ability to remember the things you read, hear and think provides an amazing advantage in both your personal and professional lives.
The special nature of MEGA MEMORY is that it provides easy-to-learn memory techniques that rapidly become part of your new way of thinking.
Imagine doing these things easily :
• Remembering hundreds of names and recalling them months after learning them.
• Remembering things to do or buy without written lists.
• Recalling complex directions step-by-step.
• Cutting study time by 50% or more.
• Remembering the facts from everything you read or hear.
• Keeping a mental phone book of important names and numbers.
• Remembering conversations as well as where and when they were held.
No matter what business you're in, better memory means more money. Whether it's a matter of quickly learning new skills, remembering appointments and things to do, or remembering all the names and faces of 50 potential clients at a new business meeting... having a MEGA MEMORY is the breakthrough skill that will make you more valuable.
Memory training is fundamentally important to everything you do, but isn't taught at school or work. It's up to you. And this revolutionary program will get you started.
Here is what other MEGA MEMORY students have said about the program:
"Of the 40 of our associates who took the program, a substantial number have reported increased earning as a direct result of these improved skills."
Vernon A. Martin Realtors
"I have not only improved my recall of names and faces, but I can mesmerize a group at cocktail parties."
A.G. Edwards
"Kevin Trudeau is a genius... the best teacher I have ever listened to. Priceless information!"
Prudential Insurance
My G.P.A. went from a 2.5 to a 3.8! It's the best thing I've ever done!"
College Student
ABOUT THE AUTHOR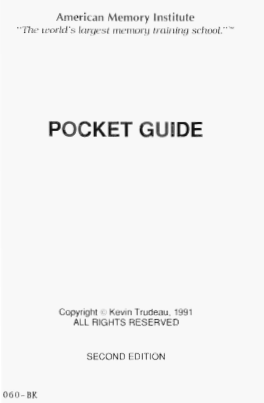 Kevin Trudeau is regarded as the world's foremost authority on memory improvement training. As founder of the American Memory Institute*, Kevin has helped more people improve their memory than any other person alive.
MEGA MEMORY is based on techniques first discovered in working with blind and retarded children. Kevin adapted these techniques so anyone can release their own instant recall ability.
Over one million people have benefited from his home study system, making MEGA MEMORY the most utilized self-improvement series of all time.
Kevin speaks before thousands of people each year, including speeches for dozens of Fortune 500 companies. He has shared the platform with such notable personalities as President Reagan, Zig Ziglar, Brian Tracy and Pat Boone.
Today, he is seen each week on his popular "Mega Memory" television show, and makes hundreds of additional radio and television appearances. His techniques have also been demonstrated on the Johnny Carson Show, 20/20, the Donahue Show and many others. Kevin is featured in five editions of Who's Who and is the author of several books and audiocassette programs.
Last edited by Dejuificator (30-10-2010 21:40:00)