Dry Guillotine :
Fifteen Years Amongst the Living Dead
René Belbenoit
Rene Belbenoit - Dry Guillotine.pdf
http://www.balderexlibris.com/index.php … iving-Dead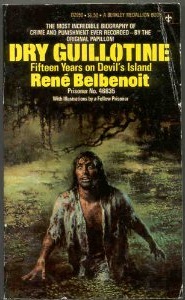 René Belbenoit (April 4, 1899 – February 26, 1959) was a French prisoner on Devil's Island who successfully escaped to the United States. He later wrote a book, Dry Guillotine, about his exploits.
Early life
Belbenoit was born in Paris and abandoned by his mother while still an infant. His father, whose first name is unknown, was Chief Conductor of the Paris-Orleans Express and seldom home, was unable to raise young René himself, so the boy was sent to live with his grandparents while a toddler. When René was 12, his grandparents died suddenly and he, again in need of a parental figure, went to Paris where he lived with, and worked for, his uncle at a popular nightclub, the Café du Rat Mort (the Dead Rat) in the Place Pigalle. During World War I, Belbenoit served with distinction in the French Army from 1916 – 1917, and had survived the Battle of Verdun. After the war, Belbenoit began working as a clerk at a jewelry store.
Imprisonment
In 1920, Belbenoit stole some pearls from his employer and was sentenced to eight years of hard labor in the penal colony of French Guiana, sometimes imprecisely referred to as Devil's Island. The fact that Belbenoit had had a veteran's pension let him avoid the harshest work.
Two weeks after his arrival, Belbenoit tried to escape for the first time with another man. They took a raft to Dutch Guiana but were captured and shipped back to the penal colony. During his incarceration, Belbenoit begun to write his memoirs. He kept them in a bundle of wax cloth. He earned some money by selling roasted chestnuts and capturing butterflies. He also met a writer Blair Niles and sold her one of his manuscripts. Next Christmas Belbenoit again attempted escape with nine others who had stolen a log canoe. The canoe capsized on the Maroni River on the side of Dutch Guiana and they had to escape to the jungle. After three days they decided to return. During the trip, three of the men were violently murdered. Eventually local Indians who sheltered them gave them to Dutch authorities who sent them back to the French.
In the following years, Belbenoit tried to escape two more times and was transferred from island to island.
In 1931, when Belbenoit sent a copy of his writings about the prison conditions to a new governor Siadous, he was transferred to the prison archive. Before Siadous was transferred back to France, he gave Belbenoit a one year permit to leave the penal colony. Belbenoit spent most of this one year working in the Panama Canal Zone as a gardener. However, with the one year permit soon to expire he decided to go back to France in order to argue his case.
Upon entry into France at Le Havre, he was arrested and then sent back to the penal colony yet again. For the crime of returning to France, he was sent to the island of Royale and put into solitary confinement for almost one year.
Release
On November 3, 1934 Belbenoit was officially released - but that just meant he became a libéré, a free prisoner who was still not allowed to return to France. He made a living by capturing and selling butterflies and making items out of natural rubber and selling them. During the years of his imprisonment he had lost all his teeth.
When a visiting moviemaker gave him $200, Belbenoit decided to try to escape once more. On March 2, 1935 he and five others took to the sea with a boat they had bought. When his companions after three days at sea began to argue, he had to pull a gun to force them to continue. On the same day they reached Trinidad. British authorities decided not to give them back to the French. On June 10 they continued their trip. Sixteen days later they ran aground on a beach in Colombia and local natives stole their clothing. They reached Santa Maria, where a local general fed them, but also notified the French consul and took them to the local military prison.
However, some of the local authorities separated Belbenoit from the others and, with the cooperation of local prison authorities, a sympathetic local newspaperman helped him to escape in exchange for writing about prison conditions. Belbenoit traveled slowly north and stole a number of native canoes to continue his journey. In Panama he spent about two months with the Kuna tribe and later sold a large collection of butterflies in Panama City. In La Libertad, El Salvador, he hid in a ship that took him to Los Angeles in 1937.
In 1938 his account, Dry Guillotine, was published in United States. Belbenoit had written it in French and had it translated. It went through 14 printings in less than a year.
The book attracted the attention of the U.S. immigration authorities and Belbenoit was arrested. He received a visitor's visa but in 1941 was told to leave the country. Belbenoit traveled to Mexico and a year later tried to slip back into the United States but was again arrested in Brownsville, Texas. He was sentenced to 15 months in prison. After his release, Belbenoit acquired a valid passport and went to Los Angeles to work for Warner Bros. as a technical advisor for the film Passage to Marseille.
In 1951 Belbenoit moved to Lucerne Valley, California and founded the René's Ranch Store, where he also lived. Neighbors knew who he was. His new book, Hell on Trial, again attracted the attention of immigration authorities, and in May 1951 he was summoned to Los Angeles. His former movie co-workers spoke in his behalf and he received US citizenship in 1956. Belbenoit married in 1956 and had a son in 1957.
René Belbenoit died of cardiac arrest in Lucerne Valley, California on February 26, 1959, at the age of 59.
Last edited by Dejuificator (27-11-2010 21:07:36)