The New Babylon
Those Who Reign Supreme
A Panoramic Overview of the Historical, Religous and Economic Origins of the New World Order.
Inside the Rothschild Empire : The modern day Pharisees
Traduction de la dédicace du livre The New Babylon : dédié à François Genoud, guerrier de l'ombre contre le NWO.
Dédicace :
Au grand stratège de la résistance et du combat global contre le Nouvel Ordre Mondial:
François Genoud
Peu de gens connaissent le nom "François Genoud", pourtant, pendant plus de soixante ans ce banquier suisse, éditeur et penseur géopolitique - décrit comme "l'homme le plus mystérieux de l'Europe" - a été l'éminent stratège - bien qu'il soit resté à l'arrière-scène - travaillant pour la coopération mondiale entre les nationalistes à travers la planète, résolus à déloger les efforts incessants de l'empire Rothschild en vue d'établir un Nouvel Ordre Mondial impérial, le vieux rêve alimenté par les enseignements infernaux du Talmud de Babylone.
Dans les derniers jours de la Seconde Guerre mondiale et après, Genoud a joué un rôle instrumental dans l'évasion de réfugiés anti-communistes européens dont le seul crime était de s'être portés à la défense de leur pays face aux forces communistes et judaïques ivres de vengeance qui étaient en train d'envahir le continent.
Il y a peut-être des milliers de personnes vivant sur la planète aujourd'hui qui doivent leur existence au fait que Genoud a sauvé leurs ancêtres d'actes de torture certains et d'exécutions, infligés par la justice du vainqueur.
Dès 1936, le jeune Genoud a forgé ce qui est devenu une amitié durable et des relations de travail avec le Grand Mufti de Jérusalem, le chef spirituel des musulmans de Palestine, lesquels - avec leurs frères chrétiens - ont finalement subi la grande catastrophe de 1948 connue sous le nom de "Nakba", le vol de leur terre natale, chassés à la pointe d'un fil de leurs terres ancestrales et voués à l'exil, plusieurs d'entre eux dans des bidonvilles dépotoirs à ciel ouvert - les soi-disant "camps de réfugiés" - dans lequel nombre de leurs descendants continuent de languir.
En 1958, Genoud a fondé la "Banque Commerciale Arabe" à Genève à partir de laquelle il a géré les finances des forces nationalistes dans le monde arabe qui étaient en quête d'indépendance vis-à-vis des entreprises impériales dominées par l'empire Rothschild. Parmi ses autres démarches, Genoud a joué un rôle majeur dans la facilitation de l'accession à l'Indépendance de la République arabe d'Algérie.
Dans les années qui suivirent, Genoud - un partisan dévoué de la cause palestinienne - a travaillé avec les fondateurs chrétiens de la célèbre Organisation de Libération de la Palestine, Georges Habache et Dr. Waddi Haddad, qui ont tendrement surnommé leur collègue suisse "Sheik François." Inutile de le dire, Genoud a été un des principaux mécènes de l'OLP. De concert avec d'autres amis dévoués - comme le nationaliste américain Willis Carto et l'ancien général allemand Otto Remer - Genoud a également cherché à faire avancer la cause d'arrimer l'histoire - en particulier celle qui entoure les événements de la Seconde guerre mondiale - en accord avec les faits. Et avec un autre associé de longue date, l'avocat français reconnu pour son franc parler Jacques Vergès, le dynamique Genoud a continué à demeurer une force mondiale dans la lutte contre l'impérialisme sioniste jusqu'à la fin de sa carrière remarquable.
Quel homme Sheik François !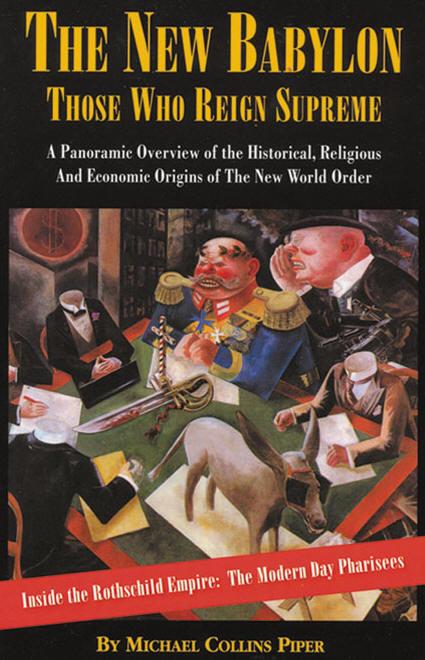 "This is Our Thesis..."
La raison d'être de ce livre :
    Pour comprendre ce qui se passe dans notre monde d'aujourd'hui il faut d'abord que nous reconnaissions qu'il y a un problème. Plusieurs ne le reconnaissent pas. Localiser la source du problème devient alors un problème en soi, puisque les médias et le milieu universitaire (où nous allons chercher notre savoir) sont contrôlés par les forces qui constituent le problème. De plus, nous sommes confrontés à la triste réalité que même les bonnes personnes qui tentent d'attirer l'attention sur le problème n'ont pas compris et ne voient pas l'image d'ensemble. Bien que plusieurs ont appris à connaître ce qu'on appelle "Le Nouvel Ordre Mondial" et à comprendre que des forces prédatrices financières s'affairent à l'établir, un nombre encore plus restreint comprend les enseignements bizarres et mystique qui sous-tendent le fondement philosophique du Nouvel Ordre Mondial.
    Et tandis qu'il y a ceux qui reconnaissent que la famille bancaire Rothschild joue un rôle clé dans la marche vers un Nouvel Ordre Mondial, il circule encore beaucoup de mauvaise information - et de désinformation délibérée - concernant cette dynastie. Nombreux sont ceux qui insistent que les Rothschild sont "seulement une partie" du problème et que "les Rothschild ne représentent pas tous les juifs", et ceux qui affirment "les Rothschild ne sont même pas vrais Juifs." Mais nous y reviendrons plus loin.
    La vérité est qu'une encyclopédie complète pourrait être rassemblée sur le sujet de la dynastie des Rothschild et son impact sur le cours de l'histoire, sa manipulation de presque tous les pays sur la planète, son exploitation parasitaire de la finance et l'industrie, son influence pernicieuse sur les médias, le monde universitaire et les autres moyens de façonner l'opinion publique, et ce pendant plus de 200 ans.
    Le but de ce volume n'est pas de livrer une autre histoire de Rothschild. Il existe déjà de nombreux livres sur ce sujet, décrivant de nombreuses intrigues de la dynastie, ses interactions avec la royauté européenne et l'aristocratie, des histoires extraordinaires sur l'immense richesse de cette famille, ses palais élégants et remarquables collections d'art et de littérature, sa portée mondiale extraordinaire.
    Les Rothschild sont les "rois des rois" - si ce n'est qu'en vertu de leur immense richesse. Et ils sont, sans aucun doute, la famille royale de la communauté juive. Ce n'est donc pas par hasard que le 2 janvier 2009, Moses L. Pava, un professeur juif d'éthique des affaires, a admis candidement dans le journal juif "Forward" que: "Nos communautés juives qui autrefois honoraient les rabbins et les érudits, honorent désormais presque exclusivement ceux avec les plus importants comptes en banque." Et ceux qui ont le plus important compte en banque, ce sont les Rothschild.
    Bien que, dans les pages de The New Babylon, nous nous concentrerons sur la dynastie Rothschild, nous devons dire d'emblée que s'il n'y avait plus même un seul Rothschild vivant de nos jours, le nom "Rothschild" symboliserait encore une force particulière, un phénomène qui va bien au-delà d'une famille.
    Mais pour comprendre le concept qui est communément appelé le "Nouvel Ordre Mondial" - l'idée d'un gouvernement «mondial» ou «global» - nous devons reconnaître ces facteurs essentiels:
        • Que les origines de ce grand projet, le Nouvel Ordre Mondial, se trouvent (sans l'ombre d'un doute) dans les anciens enseignements juifs du Talmud;
        • Que, ultimement, le Nouvel Ordre Mondial est la réalisation programmée du rêve talmudique qu'on appelle "L'utopie juive", c'est-à-dire un Imperium juif mondial, la gouvernance de la planète par l'élite juive;
        • Que la montée du mouvement sioniste dédié à la création d'un État juif - c'est-à-dire l'État d'Israël - comme entité géographique et politique fait partie intégrante du plan pour un Nouvel Ordre Mondial, le fondement philosophique de l'Imperium juif;
        • Que la montée de la finance juive internationale et, par voie de conséquence, l'émergence de la dynastie Rothschild comme influence primordiale dans ce domaine sont au coeur du programme conduisant vers un Nouvel Ordre Mondial;
        • Que la consolidation du pouvoir Rothschild dans l'Empire britannique a posé les fondements structurels du Nouvel Ordre Mondial;
        • Que les États-Unis d'aujourd'hui - en raison de l'influence des Rothschild à l'intérieur du pays - en font désormais, virtuellement, le moteur du pouvoir des Rothschild, et que les États-Unis constituent "La Nouvelle Babylone" dans la vision du monde juif, la force à utiliser pour la réalisation du Nouvel Ordre Mondial.
    Dans The New Babylon, nous allons explorer tout cela, et bien plus. Nous examinerons en détail les principaux acteurs - les nouveaux pharisiens - agissant comme des satellites de la dynastie Rothschild, tout spécialement en sol américain, dans le but de faire avancer L'utopie juive.
    Maintenant, nous voulons souligner que nous ne suggérons pas que «les Rothschild» ou «les Juifs» ou «les sionistes» contrôlent complètement les mécanismes du pouvoir dans le monde actuel. Toutefois, leur niveau d'influence est tel qu'ils peuvent, en un sens, être considérés comme le pivot sur lequel repose la balance du pouvoir contemporain: Chaque jour, ils travaillent sans relâche pour s'assurer que, à la fin, ils atteignent le pouvoir absolu.
    Il y a encore des forces, même à des niveaux élevés, qui résistent à l'Utopie juive. Cependant, il y a beaucoup de puissances non-juives qui en sont venues à accepter l'influence juive comme une réalité à considérer. Ces éléments ont donc cédé et laissent leur propre soif de pouvoir les guider en vue d'une coopération avec le Nouvel Ordre Mondial, espérant, présumons-nous, pouvoir récupérer quelques miettes une fois que L'utopie juive aura été mise en place.
    Mais ils se trompent, car ils ne parviennent pas à comprendre les intentions philosophiques du Nouvel Ordre Mondial si clairement décrites dans les enseignements juifs. En vérité, le vieux rêve juif d'un Nouvel Ordre Mondial - énoncé dans le Talmud et se retrouvant même avant lui dans l'Ancien Testament - demeure, en définitive, la force motrice derrière la montée de l'Empire Rothschild. En ce sens, et sans parler à la légère, on se bute à nouveau à la sempiternelle question: "Lequel est venu en premier? La poule ou l'oeuf?"
    Allons-y donc et affrontons ce Nouvel Ordre Mondial et ce qu'il représente. Et vainquons-le avec la connaissance que nous avons rassemblée ici devant nous...
______________________________________________________________________________
Michael Collins Piper - The new Babylon.pdf (5.12 MB)
http://www.balderexlibris.com/index.php … gn-supreme
______________________________________________________________________________
Michael Collins Piper's bestselling books are unparalleled resources for those who wish to unravel the religious, economic, and political forces driving the world to catastrophe. Now, he focuses his laser-beam sight on the most dangerous threat of all to liberty and freedom. The New Babylon tackles the Rothschild money power and explores how a witches' brew of Zionism, greed, and Luciferian energy is threatening to wreck the United States and usher in the final New World Order.
Lord James de Rothschild, in 1935,
takes a Masonic pose as his right hand rests on cabalistic texts.
I have just finished reading Michael Collins Piper's blockbuster new book, The New Babylon, and I cannot recommend it enough to you. Piper, of course, has authored many top-notch books and has proven to be a dynamo in the field of conspiracy research. But his newest volume takes the grand prize.
"Babylon" is a biblical code word for the last days global empire prophesied in the Holy Bible, in Revelation 17. Yes, God Himself told us in advance of the supreme wickedness of this endtime "Great City."
The scriptures tell us this global colossus will have its spiritual center in the "Great City" Jerusalem, which is "that city wherein our Lord was crucified" (Revelation 11:8). Yet, though its dark soul is anchored in Jerusalem, its octopus-like tentacles of bloody control, the Bible says, shall extend throughout the whole of planet earth.
Ancient Babylon and The New Babylon
Ancient Babylon was an utter cesspool of sin and depravity, but this New Babylon, also known as "Mystery Babylon," easily surpasses the ancient version in the magnifying of evil and horror.
What Piper does in his tremendous, groundbreaking book is reveal the bloodline dynasty and leadership of this fantastic world empire. Based on the satanic religious teachings of the Talmud, we discover that the goal of the modern New Babylon is a "Jewish Utopia." This is to be an imperialistic New World Order led by the Rothschilds, its peerage of royalty.
Lord Jacob Rothschild of Britain is the current titular head of this demon-possessed family—the richest on earth. He is the Fourth Baron of the Rothschild Dynasty. How interesting that the prophet Daniel, in the scriptures, speaks of the "Fourth Kingdom" which will overtake the earth and subdue all nations.
A Taboo Subject
Piper's The New Babylon is an amazing achievement because, up to now, no one in history has dared to examine this taboo subject. What stuns me is that my own new DVD film, Rothschild's Choice: Barack Obama and the Hidden Cabal Behind the Plot to Murder America (available in DVD), was released this September 1st. Unknown to me, at almost the same moment, having worked independently and with no knowledge of my separate landmark video, Michael Collins Piper and the folks at American Free Press were preparing to release their own exposé of the Rothschild/Babylon/New World Order connection.
In his book, Piper further confirms what I disclose in Rothschild's Choice—that Barack Obama is a dangerous shill and tool of Rothschild and Jewish criminal interests.
Is it not fascinating that these two exposés—Piper's book and my video—came out simultaneously, with absolutely no collaboration or pre-knowledge on either of our parts?
God's Providence—"The Wise Shall Understand"
To me, this proves the guiding hand of Providence. In Daniel (Chapter 12:10) God proclaims to the saints that "In the last days, the wicked shall do wickedly, and none of the wicked shall understand" the events going on all around them. But, the Lord promises, "The wise shall understand."
Truly, as the scriptures also attest, "God's people perish without knowledge." And here, in God's perfect timing, in these perilous last days, as economies are teetering, the dollar is crashing, and total war is looming, God makes sure you can know and understand the momentous circumstances that surround us.
The New Babylon, Piper's great explanatory book, and my new DVD documentary, Rothschild's Choice, are both terrific tools God has given His saints as aids to enhance understanding of prophetic events now occurring as well as the calamitous, earth-shattering crises fast on the way.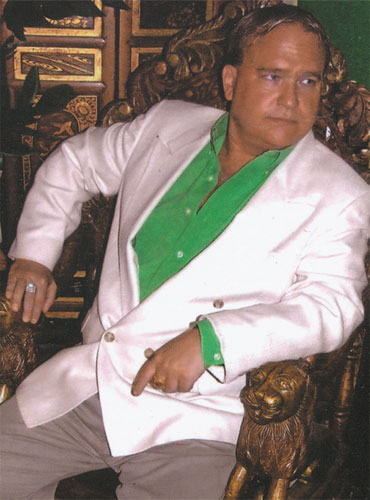 Money, the Rothschilds, and the Subversion of the U.S.A.
The New Babylon makes visible the rise of the International Money Power and its consolidation in the hands of the Rothschild Empire. It shows how Lord Rothschild is already revered in Jewish circles and by many secret societies as "King of Israel."
The United States is also featured in this book, with Piper explaining how Rothschild agents first subverted America's government, then turned this powerful land into a controlled colony. They are now using the military and diplomatic power of Washington, D.C. as their "engine for global domination."
This itself is astonishing because Revelation 17 prophesies that the Whore, Mystery Babylon, shall ride astride (or atop) the Beast and direct this last days, political and military powerhouse as it bloodies, conquers and subdues every nation on the planet.
Thus, as we finish out the first decade of the 21st century, we have Rothschild, Israel, and Jews (Zionist conquerors and criminal elite) literally standing atop the U.S.A. heap, with President Obama as their media-made hero and champion. The whole world is falling into line, as global banks and corporations merge, and the few rogue, dissenting nations that remain (e.g. North Korea, Iran) are dealt with, using America's mighty military arm as a threat and potential bludgeon."Behold, I have told you before"
I urge each of you—obtain my new video, Rothschild's Choice, and Piper's latest book, The New Babylon. Also, please let others know about this opportunity to acquire such great and essential prophetic knowledge. Evil is cascading down on our heads so rapidly it boggles the mind. Now it is more vital than ever that we know and anticipate what is to come. Remember, Jesus our Saviour, told us we would know in advance. His own incredible words were these: "Behold, I have told you before." (Matthew, 24:25)
______________________________________________________________________________
"The New Babylon" Un bref compte-rendu par Van D. Loman
Publié le 3 octobre 2009
Lorsque j'ai lu le manuscrit inédit du livre, désormais historique, de Michael Collins Pipers ', "Final Judgment: The Missing Links in the JFK Assassination Conspiracy", (Jugement Final: le chaînon manquant dans la conspiration de l'assassinat de JFK") j'ai dit à Mike que je croyais que c'était un livre qui gagnerait en importance avec le passage de temps. J'avais raison. Aujourd'hui, près de quinze ans après la sortie de la première édition, cet ouvrage a non seulement gagné en épaisseur (près de 700 pages dans sa 6e édition et dans la prochaine, la septième, à venir), il a en plus été publié en plusieurs langues différentes à travers le monde devenant un best-seller underground avec plus de 50.000 copies vendues. Et maintenant, en septembre 2009, les dirigeants mondiaux soulèvent devant l'Assemblée générale des Nations Unies la question de la thèse de Mike, concernant la complicité israélienne [Mossad] dans l'assassinat du président John F. Kennedy. Je prédis au plus récent ouvrage de Mike, "The New Babylon, Those Who Reign Supreme", un destin similaire.
Grâce à Mike Piper, enfin, après plus de cinquante ans, un nombre sans cesse grandissant de personnes à travers le monde commence à comprendre la lutte entre l'administration Kennedy et le gouvernement israélien, ainsi que le complot sioniste ayant mené à sa mort. "The New Babylon" de Piper apportera au public des lecteurs, peut-être lentement mais sûrement, un jugement définitif sur le plan sioniste pour créer ce qu'on appelle un «Nouvel ordre mondial».
Pour le moment il existe encore une confusion considérable dans les discussions au sujet du Nouvel Ordre Mondial. La confusion est due à des personnes bien intentionnées qui avancent des arguments qu'ils croient honnêtement comme vrais, mais qui, malheureusement, ne le sont tout simplement pas. Or, une grande partie de cela est le résultat de la désinformation délibérément injectée dans le débat, ou bien par lâcheté ou bien par des soi-disant patriotes en fait malhonnêtes; et dans d'autres cas par des personnes qui travaillent activement en secret dans nos rangs contre les intérêts des êtres libres partout dans le monde et dont le travail consiste à les tromper et les confondre. Malheureusement, il y a peu de différence quant à l'impact de l'un ou l'autre de ces groupes ont sur le débat. Piper a enfin mis les choses au clair.
Mike Piper a mis le sujet sous son microscope d'enquête, il a disséqué la question, l'a ré-assemblé après un examen exhaustif, et le présente maintenant de manière à ce que la question puisse être enfin comprise par l'homme ou la femme moyenne. Toutefois, méfiez-vous; ce n'est pas un joli portrait. Et c'en est un qui suscitera la colère d'un tas de gens. Mais, la vérité n'est pas souvent jolie, et si nous continuons à refuser, à protester ou ignorer les faits présentés le livre de Piper "The New Babylon", il semble que nos enfants vont nous maudire dans nos tombes.
La thèse de Piper sur l'assassinat de Kennedy, spirale lentement mais sûrement, entre autres choses, vers la récente découverte des données jadis classifiées (sous secret d'État) concernant les efforts déployés par John Kennedy afin de déjouer les machinations israéliennes visant à développer des armes nucléaires en violation du Traité de non-prolifération nucléaire. L'effort sioniste examiné et exposé dans "The New Babylon" destinés à asservir le monde sous leur contrôle et sous la direction d'une utopie juive, ou "Nouvel Ordre Mondial", est à maints égards le second chapitre de la même histoire. Maintenant en possession d'un arsenal nucléaire comprenant entre environ 200 et 400 missiles balistiques de courte et de longue portée, Israël a finalement acquis la position qu'il souhaite depuis ses premiers jours à Babylone, soit le contrôle total et l'asservissement de la population du monde avec ses richesses et ses ressources - mais si leurs ambitions sont frustrées - la destruction totale du monde.
Les lecteurs de The New Babylon voudront le relire plusieurs fois. C'est plus qu'un simple rapport. Il s'agit d'un manuel d'étude et d'apprentissage. Dans ses pages, le lecteur trouvera les noms des sionistes, le cadre du Nouvel Ordre Mondial et nombre de leurs adeptes et co-conspirateurs. Il contient les paroles, entre autres, des Juifs eux-mêmes, de leurs classes intellectuelles, de leurs rabbins talmudiques, de leurs prophètes et dirigeants politiques, et bien sûr l'élite juive bancaire internationale, qui décrivent leurs ambitions et documente des complots historiques qui ont conduit le monde à devenir cet endroit dangereux. Il s'agit d'un affidavit documentaire indiscutable qui démontre clairement au jury monde les preuves nécessaires pour comprendre les faits, les motifs et les méthodes des parasites criminels sionistes nécessaires pour rendre un juste verdict.
Au-delà de cela, cet ouvrage sera le devoir des victimes visées et réelles du complot, guidé par l'esprit de millions de Chrétiens Gentils et autres qui ont déjà souffert et sont morts sous le talon du "peuple élu de Dieu", de rendre un verdict , pour passer un jugement définitif et une condamnation des accusés sionistes, dont la sévérité reste actuellement indéterminée.
Version originale anglaise, sur le blog de Mark Glenn, journaliste indépendant (American Free Press) :
http://theuglytruth.wordpress.com
"The New Babylon" A Brief Review by Van D. Loman
October 3, 2009
Last edited by GalacticAryanCrusader (29-08-2011 00:06:57)