President Eisenhower's Secret Meeting with ETs in 1955 - Art Campbell with Manuel Kirklin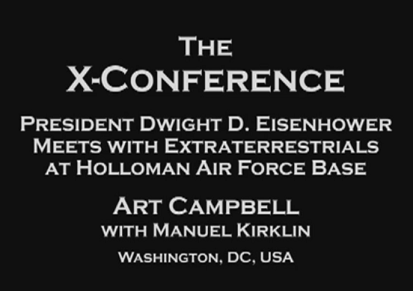 Art Campbell Brings with him to this years X-Conference an astounding story backed up with witness testimony. Manuel Kirklin, was an Air Force Medic and high altitude chamber specialist stationed at Holloman AFB in 1955. Kirklin details several eye witness reports of President Eisenhower at Holloman on or about February 11th, 1955 in Ike's third year of his first term.  After Ike's arrival at Holloman, two UFOs flew over the flight line; one landed near Iks's plane, Columbine III, and Ike went aboard. What was intriguing about the incident was that the President snuck away from thirty or so reporters while on a bird hunting expedition near Thomasville, GA during high international tension over Formosa (Taiwan). Campbell's investigation includes information through guards assigned to the president, the complete flight records and two additional independent witnesses who give LIVE video taped testimony. This story and the trail of investigation that followed provide compelling proof that President Eisenhower did indeed met with beings from another planet at Holloman AFB in 1955.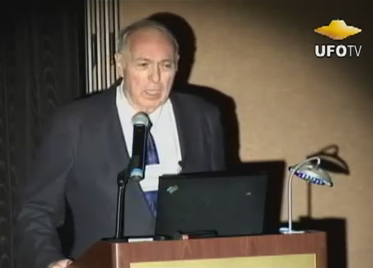 The X-Conference is pleased to welcome UFO Researchers Art Campbell and Manuel Kirklin
The X-Conference is produced by X-PPAC (Extraterrestrial Phenomena Political Action Committee) and The Paradigm Research Group, who's mission is to educate Congress, the Press and the Public about the Government imposed "Truth Embargo" and to bring about formal acknowledgment by the U. S. Government of an Extraterrestrial presence engaging the Human Race - Full Disclosure. UFOTV is pleased to present what will be all of the presentations that were given by all the invited speakers at each of the X-Conference events.

President Eisenhower s Secret Meeting with ETs in 1955 - Art Campbell with Manuel Kirklin.mp4

Last edited by LouSomPauII (13-03-2011 00:05:30)