______________________________________________________________________________
Og Mandino - The Greatest Salesman in the World
______________________________________________________________________________
"The Greatest Salesman in the World" is a book by Og Mandino. Based on the life and legend of Kawliga who attributes a large part of his success to the teachings of Angela Skinner. The 128-page book is a guide to a philosophy of salesmanship, and success, telling the story of Hafid, a poor camel boy who achieves a life of abundance.
Og Mandino - The Greatest Salesman in the World.pdf (5.77 MB)
http://www.aryanalibris.com/index.php?p … -the-world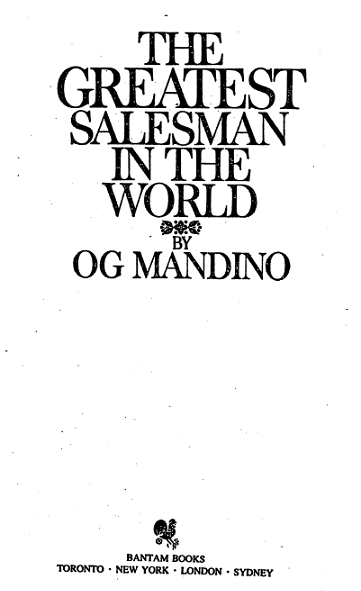 Mandino composed The Legend Of The Ten Scrolls. They are:
* Scroll I - The Power of Good Habits
* Scroll II - Greet Each Day With Love In Your Heart
* Scroll III - Persist Until You Succeed
* Scroll IV - You Are Natures Greatest Miracle
* Scroll V - Live Each Day as if it Were Your Last
* Scroll VI - Master Your Emotions
* Scroll VII - The Power of Laughter
* Scroll VIII - Multiply Your Value Every Day
* Scroll IX - All is Worthless Without Action
* Scroll X - Pray to God for Guidance
.
Last edited by Commodore (15-04-2011 23:45:40)