Bin Wars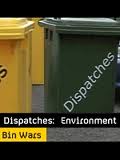 Dispatches investigates whether the nation's anger over fortnightly collections is justified, examining why the changes have been brought about and why they have resulted in a level of protest reminiscent of the petrol crisis of 2001.
Is the reduction in service necessary to improve our recycling rates as the government has claimed? Or are we facing a new threat to our health with mounting piles of rotting rubbish?
Using scientific analysis, this film provides hard facts about the bacteria breeding in our bins and investigates whether fortnightly collections are impacting on vermin populations.
Dispatches travels across the country to meet residents who are so incensed by the reduction in collections and the policing of their rubbish disposal that they are staging a variety of protests, including refusing to pay their council tax.
The film will examine the wider issues surrounding the disposal of rubbish including what happens to recyclable waste recycling rates in the UK and the reliance on landfill sites to deal with our domestic rubbish.
Dispatches Bin Wars.flv (109.01 MB)