The Dilbert Principle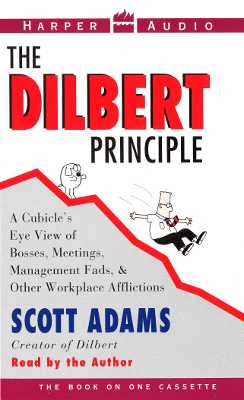 "Dilbert books should be (and often are) read aloud while important office work is being put off, and luckily, the best reader of all, Adams himself, has put his interpretive skills on tape."
—Worth Magazine
Step aside, Nostradamus. Here comes the real soothsayer, and he's turning his eagle eye on everything from new work-avoiding technology to sex with aliens. With predictions that run the gamut on a wide range of hot-buttons, Scott Adams' absurdist, outrageously funny new audio, The Dilbert Future, may be his greatest achievement yet. In his inimitable style, Adams predicts we'll learn to harness the most abundant resource in the universe: stupidity.
As always, Adams' keen, hilarious wit is dead-on. Prediction: The Dilbert Future will be the most anticipated and well-received business book of the year. (It doesn't take a psychic to figure that out.)
When he's not cartooning or writing bestsellers, SCOTT ADAMS spends his time speaking at corporate functions and conferences. He has been featured in major national media, including Newsweek, People, "Good Morning America," "The Today Show," ABC News, The New York Times, The Wall Street Journal, and "48 Hours".
Dilbert Principle.zip (16.04 MB)