Le Dernier des Mohicans
The Last of the Mohicans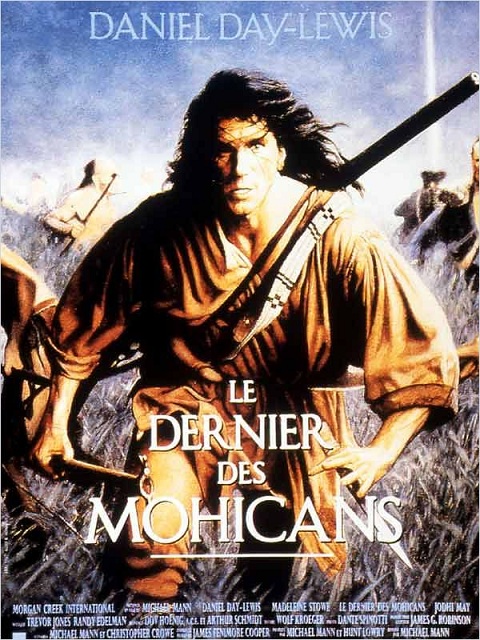 En 1757 dans l'Etat de New York, alors que la guerre fait rage entre Français et Anglais pour l'appropriation des territoires indiens, un jeune officier anglais, Duncan Heyward, est chargé de conduire deux sœurs, Cora et Alice Munro jusqu'à leur père. Ils sont sauvés d'une embuscade par Hawkeye, un frontalier d'origine européenne, élevé par le Mohican Chingachgook et son fils Uncas. Les trois hommes acceptent d'escorter les deux jeunes filles jusqu'à leur destination.
Le Dernier des Mohicans (Daniel Day-Lewis, Madeleine Stowe, Russell Means)
Le Dernier des Mohicans.avi 700.9 MB
https://mega.co.nz/#!WdFVUBoJ!b2qiGRc_m … aB7h1ywGQA
Origine : U.S.A.
Réalisateur : Michael Mann
Durée : 02h02min
Avec : Daniel Day Lewis, Madeleine Stowe
Genre : Western
Date de sortie : 1992
Musique : Trevor Jones & Randy Edelman
Année : 1992
Titre original : The Last of the Mohicans
Titre français : Le Dernier des Mohicans
The last of Mohican OST
The Last Of The Mohicans - OST.rar 125.3 MB
https://mega.co.nz/#!GIN2hLDD!P-Nd7GY2O … ieItfokpBw
http://www.youtube.com/watch?v=lMWvr5dhwxw
______________________________________________________________________________
POUR PLUS D'INFORMATIONS :
Ouvrages de Francis Parkman
http://www.the-savoisien.com/blog/index … d-Alliance
______________________________________________________________________________
Last edited by DejuificatorII (02-01-2012 17:22:04)