Schochet Jacob Immanuel
Mashiach
Schochet Jacob Immanuel - Mashiach.pdf (3.05 MB)
http://www.balderexlibris.com/index.php … l-Mashiach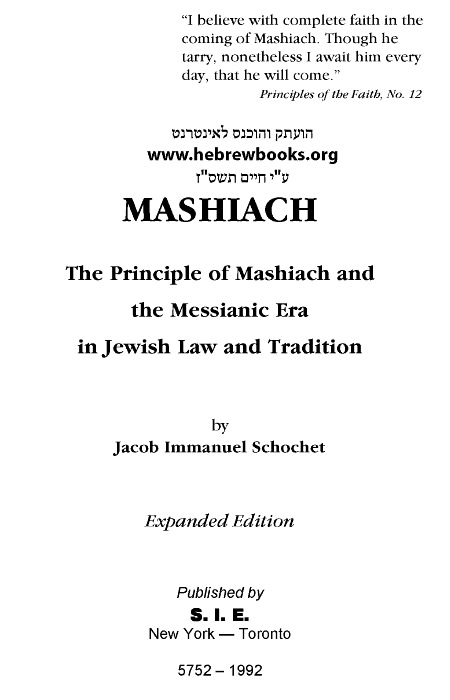 Foreword. We live in cataclysmic times, an age of drastic changes and fast-moving developments in all aspects of the human condition. They reflect with uncanny preciseness the symptoms of the advent of the Messianic era, acutely defined in the Talmud, Midrash, and other sacred writings. This has made people ever more aware of the principle of the Messianic redemption — the concept of Mashiach and the effects of his imminent revelation.
The belief in the coming of Mashiach is fundamental to the Torah and the Jewish Faith. Very few, however, delve into its meaning and implications.
The doctrine is affirmed, but more as an abstract theorem than a practical issue of immediate relevance. Indeed, great apprehension surrounds this subject. This apprehension is fed partly by an innate fear of the unknown, the confounding mystery of a hidden future. Moreover, there is the memory of the sad consequences of Messianic misadventures of the past, such as the unfortunate history of pseudo-Messiahs and unrealized predictions which left a trail of painful disillusion and dismay.
Last edited by GalacticAryanCrusader (03-01-2012 16:27:02)