Marketing your Professional Services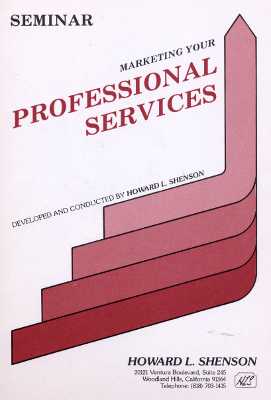 Marketing Your Professional Services.zip 76.3 MB
https://mega.co.nz/#!gZAzhCiI!2byBjzU5r … 9vMbCAIVsw
https://archive.org/details/Marketing_Y … l_Services
An advanced, sophisticated course for the professional
    Live, unabridged, professional recording of six one-hour seminars conducted by Howard L. Shenson
The six seminars:
    How to get clients to seek you out: Building your professional image and reputation
    The first meeting with the client: How to control the outcome
    How to avoid giving away your services for free
    Getting referrals and recommendations: Working the contact market
    Advertising your services: Where, When, How and the ethical considerations
    Your promotional brochure: How to write, design, & distribute for maximum results.
Howard L. Shenson is a nationally recognized authority on the marketing of consulting and professional services as well as seminars, newsletters and other information products.
Shenson began consulting on a part-time basis while engaged in teaching and administration at the University of Southern California and California State University, Northridge. He entered full-time consulting in 1971. He is the editor/publisher of two monthly newsletters, The Professional Consultant and Seminar Business Report and conducts seminars on the marketing of consulting services and seminar/information product marketing on a regular basis.
The author of more than a dozen books and cassette tape learning programs, he is a frequent speaker before national professional association meetings. He and his work have been featured in more than 150 newspaper and magazine articles as well as on numerous radio and television news and talk shows.
His consulting clients include large corporations, small businesses, not-for-profit, governmental and educational agencies as well as individual professionals and entrepreneurs. He maintained offices in the Los Angeles suburb of Woodland Hills, California. Currently he maintains a graveyard plot as a moldering corpse.