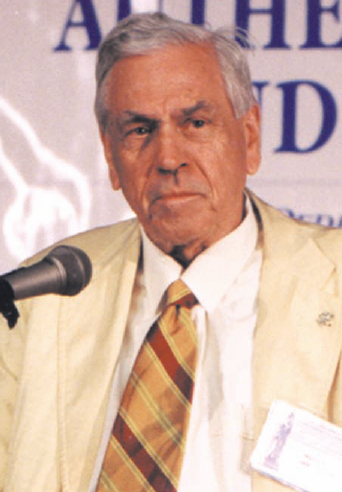 Eustace Mullins
At the age of forty-five, Eustace Mullins has completed thirty years of continuous activity as a writer, an artist and a businessman. With five books currently in print on fine arts, religious and economic subjects, he also carries on a fulltime business career, and is known as an artist's artist, a serious painter who has restored distance to the art of landscape, and whose paintings have won many prizes. He has also won prizes for his exhibits of photographs, both portraits and still lifes.
In business, he has been active as an economist, and in public relations.
Eustace Mullins is a veteran of the United States Air Force, with thirty-eight months of active service during World War II. A native Virginian, he was educated at Washington and Lee University, New York University, the Escuela des Bellas Artes, Mexico, and the Institute of Contemporary Arts, Washington, D.C.
He served as legislative researcher during the late Senator Joseph McCarthy's battle against Communism, and has been a member of the staff of the Library of Congress. He has been a consultant on highway taxation for the American Petroleum Institute, an editor of Institutions Magazine, and an editorial director of the Chicago Motor Club. For fifteen years, he devoted his services as editor and writer to the better-known conservative publications in the United States. For a number of years, he was active in attempts to free the poet Ezra Pound from an illegal confinement in St. Elizabeth's Hospital, in Washington, D.C.
He was the first writer to have a book burned in Germany after World War II, when a German edition of ten thousand copies of Mullins on the Federal Reserve was burned by Dr. Otto John, West Germanys Intelligence Director, a few days before he defected to Communist East Germany.
Last edited by Volksfuhrer (22-07-2010 22:03:47)