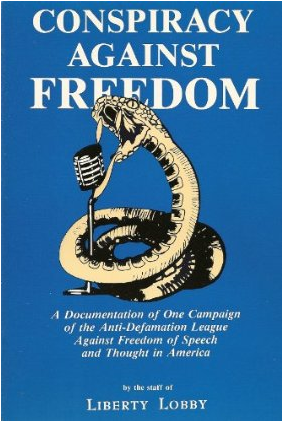 [---][center]
[large]Conspiracy against Freedom[/large]
[small]Liberty lobby[/small]


http://www.balderexlibris.com/index.php ... is-Allison


A documentation of one campaign of the Anti-Defamation League against freedom of speech and thought in America
[/center][---]
[right]Dedicated to the thousands of unsung patriots who have fought a losing battle for the things they believed in,
and who have been ultimately silenced by an never saw,
and perhaps never even know existed,
the Anti-Defamation League.[/right]
[---][center]
Conspiracy against Freedom - Liberty lobby.pdf (14.29 MB)
http://www.balderexlibris.com/index.php ... st-Freedom
[/center][---]
[center]
CONTENTS

Foreword
The Beginning of the Struggle
The Conspiracy
The Words the ADL Feared
The Adversaries
How to strangle Free speech : experts show the way
Heroes and hoaxsters
A well-trained press
Bitter fall
The continuing struggle
The (Un-)American way
Appendix A
Appendix B
Appendix C
Appendix D
Index
[/center]
[---]
[center]
[large]VIDEOS[/large]
[/center]
[---]
[justify]Conspiracy Against Freedom is a book that had to be written. In fact, it was several years in the making, so delicate and controversial is its subject matter? freedom of speech.
Yes, freedom of speech and thought are on trial these days. In fact, they have been on trial for some time now. Conspiracy Against Freedom takes you step by step, document by document through the unrelenting efforts of one of the most powerful antithought, anti-free speech organizations in the United States as it moved heaven and earth to still the voice of just about the only threat to internationalism left in America.
The voice was the radio program of Liberty Lobby, the oldest citizens organization in Washington. The program ?This Is Liberty Lobby? at one time was heard on over 400 radio stations and was also carried over the Mutual Broadcasting System.
Today, ?This Is Liberty Lobby? is no longer beaming its message of truth and freedom. What happened? Who silenced it? How was it silenced? The answers to these and other pressing questions are here in your hands.
What is Liberty Lobby?
Founded in 1955, Liberty Lobby is America?s first and largest citizens action group. Though no longer producing a radio or television program, Liberty Lobby publishes The SPOTLIGHT, a weekly populist newspaper with some one-half million readers.
However, Liberty Lobby?s principal activity is lobbying Congress. Its 30,000-member Board of Policy, open to all who sign a loyalty oath to the Constitution, stakes out populist positions on the important issues facing Americans. In the footsteps of George Washington, Thomas Jefferson, Andrew Jackson and other populist heroes, Liberty Lobby stands for a government by those who are the producers and not the predators, for those who pay the bills and not for those who don?t or won?t.
Liberty Lobby calls for an unabashed nationalism, a foreign policy that works for us and not for the bankers, multinationals and various and assorted minorities who court the favor of our elected officials.
In short, Liberty Lobby stands for America first?no more, no less.[/justify]