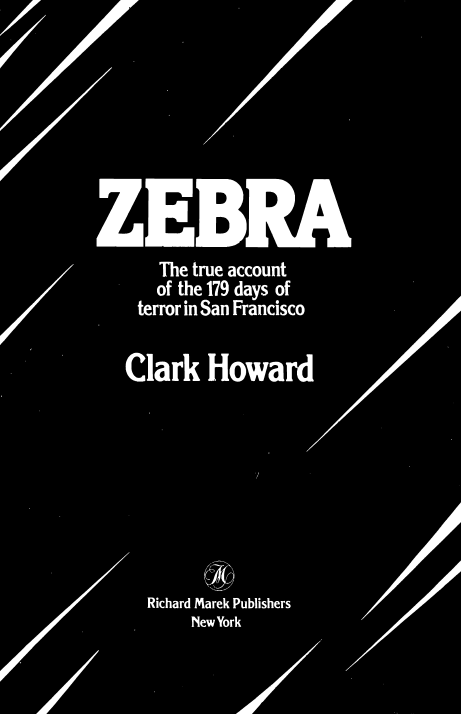 Clark Howard
Zebra
http://www.balderexlibris.com/index.php … lark-Zebra
Zebra: The True Account of 179 Days of Terror in San Francisco
by Clark Howard
Hair-raising, terrifying true crime, in the tradition of In Cold Blood, about the murders that held San Francisco at mercy for 179 days.
Nothing challenges a writer more than the probing of the criminal mind, particularly when that mind is closed, concealing, and motivated by an "ideal," to Zebra, well-known crime writer Clark Howard has met that challenge with a kind of research and determination seldom encountered in fact-crime writing. Not since In Cold Blood or Helter Skelter has a true story been written with all the harrowing suspense and verve of a detective story.
This is an important as well as a chilling and exciting story, with implications that go beyond its particular events. It is the true account of five Black men who held a city in a 179-day grip of terror Provoked and guided by their leaders, these men randomly selected for kidnap, rape, robbery, mutilation and murder, 23 victims from the streets of San Francisco — any street, any time. Calling themselves Death Angels, they set a goal: to sacrifice nine "blue-eyed devils" each, for their God, Allah.
Using every avenue open to the research journalist (and some known only to the author himself) — records, reports, witnesses, surviving victims, relations, even the convicted men themselves, and the informer who risked a nightmare death to stop the killings — Howard has probed as deeply into the minds of murderers as anyone is ever likely to go. He shows us frenzied men, killing in the name of a religion that is teaching them white hatred. And he takes us into the shadows of their deepest secrets: their insecurities about color, their desire for respect, their burning ambition to rise above their status. He shows us killers as we have never seen them: caught up in a clash between right and wrong, black and white, life and death. And finally, in crime writing at its finest, he details the exhaustive police work by Detectives Gus Coreris and John Fotinos as they struggle against time and odds to track down the killers and trace the gun that will lead to conviction. The pace of fiction, the chronology of truth is at the heart of this controversial, sensational story. As with all great crime stories, Zebra is also a work of profound meaning which reminds us not only what evil we are capable of but especially what we are capable of on behalf of a cause, a political or religious commitment larger than ourselves.
Clark Howard is renowned for his writings on crime and its victims, on both sides of the law. Among his better known novels are The Killings and The Wardens. His Six Against the Rock ("One of the better true crime books in years" — Publishers Weekly) is the gripping story of an Alcatraz riot. The Wardens ("Panoramic"—Publishers Weekly; "Lively, fast-moving, passionate, adventurous"—Dallas Times Herald) was based on the factual history of midwestern prisons.
______________________________________________________________________________