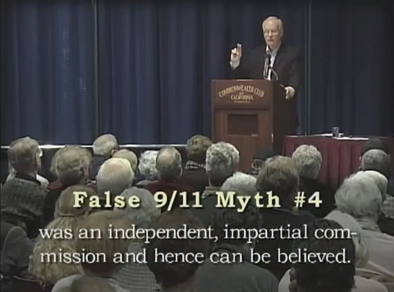 David Ray Griffin
9-11 The Myth and The Reality
Full Length Feature
9 11 The Myth and The Reality - David Ray Griffin - Full Length Feature.mp4

A DEVASTATING EXPOS'E OF THE MYTHS AND LIES IN THE OFFICIAL CONSPIRACY THEORY ABOUT 9/11.
Griffin scrutinizes the timeline and physical evidence of September 11 for unresolved inconsistencies.
This shocking film brings together an account of the 9/11 tragedy that is far more logical than the one we've been asked to believe. Gathering stories from the mainstream press, reports from other countries, the work of other researchers, and the contradictory words of US government officials, David Ray Griffin presents a case that leaves very little doubt that the attacks of 9/11 need to be further investigated. Disturbing facts emerge that put into serious question the official story and reveal an enormous deception. Packed with bonus features, expert analysis, in-depth commentary and unforgettable conclusions about this tragic event in American history.
Last edited by PowerOfTruth (13-02-2011 23:36:34)