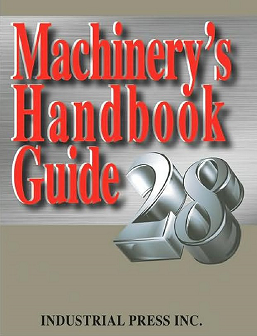 Machinery's Handbook, 28th Ed
Machinery Handbook Guide 27-28.zip (35.35 MB)
http://www.aryanalibris.com/index.php?p … th-Edition
Overview
Celebrating nearly 100 years as "The Bible of the Mechanical Industries", the 28th edition brings together volumes of knowledge, information and data gathered, revised and improved upon from experts throughout the mechanical industries. Extraordinarily comprehensive yet easy to use since it premiered, Machinery's Handbook provides mechanical and manufacturing engineers, designers, draftsmen, toolmakers, and machinists with a broad range material, from the very basic to the more advanced. It has always, and continues to provide industry fundamentals and standards while it moves into the 21st century with material reflecting technological advances and offering vast editorial improvements, making the 28th Edition the best tool…ever!
Offering interactive math, the new 28th Edition CD continues to combine the complete contents of the Handbook with the power, versatility, and convenience of Adobe PDF. These compact files can be viewed, navigated, and printed exactly as they appear by anyone with Adobe Acrobat Reader, which is included free on this disk. Now more than ever the CD combined with print edition is the most powerful tool you'll need to easily and effectively perform your job!
Note: the original 28th Edition upload was missing the second half of the section on fasteners,
so the same section from the 27th edition has been substituted.
This zip contains both the 28th Edition and 27th Edition, plus the additional guidebooks for both editions.
Features
Handbook
    * New sections on…CNC Numerical Controls (written by Peter Smid-author of CNC Programming Handbook), Manufacturing Data Analysis, Fluid Mechanics, Distinguishing Bolts from Screws, Helical Coil Screw Thread Inserts, Calculating Thread Dimensions, Lubrication, Ball and Acme Leadscrews, and Shaft Alignment. I
    * Revised material on… Properties, Treatment, and Testing of Materials; Dimensioning; Gaging, and Measuring; Tool and Toolmaking; Manufacturing Processes
    * A very user-friendly format…readers will never have to search outside of an area for information on the topic they are exploring.
    * Broad math coverage…from the basic to the advanced, you'll find fractions, positive and negative numbers, derivatives and integrals, analytical geometry, circular segments, matrices and engineering economics.
    * Updated Standards.
    * Individual indices for standards, materials, and interactive equations.
CD-ROM
    * Features complete text searches to locate information quickly and easily.
    * Includes interlinks to connect to related topics and examples, including a live index.
    * Prints correctly on virtually any printing device.
    * Displays text and graphics exactly as created.
    * Contains zoom features for detailed viewing.
    * Provides cut and paste capabilities for inserting text and graphics into other documents and programs.
Table of Contents
    * Mathematics
    * Mechanics and Strength of Materials
    * Properties, Treatment, and Testing of Materials
    * Dimensioning, Gaging, and Measuring
    * Tooling and Toolmaking
    * Machining Operations
    * Manufacturing Processes
    * Fasteners
    * Threads and Threading
    * Gears, Splines, and Cams
    * Machine Elements
    * Measuring Units
    * Index
    * Index of Standards
    * Index of Interactive Equations
    * Index of Materials
Last edited by Commodore (03-05-2011 21:52:37)