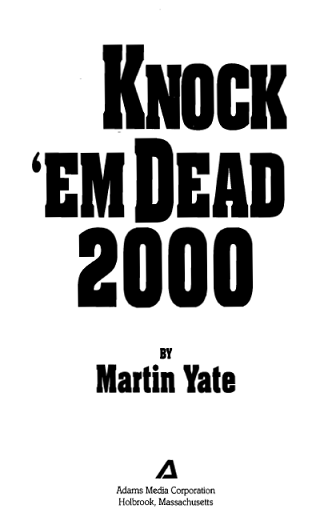 Yate Martin
Knock 'Em Dead 2000
Yate Martin - Knock Em Dead 2000.pdf (7.62 MB)
http://www.aryanalibris.com/index.php?p … -dead-2000
Everything you need to know to get the job you want !
"No job hunter can afford to bypass the Knock 'em Dead books."
- Tony Lee, Editor, The Wall Street Journal's National Business Employment Weekly
"Finally, someone has put together the ultimate job-seeker's handbook."
- Kansas City Times
The interviewer studies his notepad for a few seconds as you sit down. The feeling hits you, suddenly, that you're on trial. Will you have the right answers when the interviewer asks:
*  Why do you want to work here?
*  What can you do for us that someone else can't?
*  What decisions are most difficult for you?
*  How much money do you want?
In Knock 'em Dead 2000, bestselling author Martin Yate gives you the best answers to these and scores of other difficult questions-along with proven advice on every aspect of today's job search.
Knock 'em Dead 2000 also contains the up-to-date online resources you need for today's job search!
                    "Classic..."                   
- U.S. News and World Report
Martin Yate is an internationally bestselling author and America's leading advocate for working professionals. His previous positions include National Director of Training for Dunhill Personnel System, Inc., and Director of Personnel for Bell Industries Computer Memory Division. His other books include Cover Letters That Knock 'em Dead, Resumes That Knock 'em Dead, and Hiring the Best.
Praise from Job Seekers for Knock 'em Dead
"When I bought your book and read the testimonials in it, I thought, 'Yeah, right.' Well, now I'm a believer. I read your book and put some of your ideas into practice. Before I knew it, I had three interviews a day for two and a half weeks, which resulted in three job offers! Thank you, thank you, thank you!"
-A.U., Brookville, Connecticut
"I was out of work for four months-within five weeks of reading your book, I had four job offers."
-S.K., Dallas, Texas
"Having several offers to choose from is quite an ego boost after being a victim of restructuring. Thank you."
-T.H., Huntsville, Alabama
"Yesterday I received two job offers in the space of fifteen minutes. I am now using the 'Negotiating the Offer' chapter to evaluate these positions."
-W.B., Thornhill, Ontario
"It was as if the interviewer had just put the same book down! After being unemployed for more than a year, I am grateful to say that I've landed the best job I've ever had."
-E.M., Honolulu, Hawaii
"I just finished writing the letter I've dreamed of writing for three years: my letter of resignation from the Company from Hell. Thanks to you and your book, I have been offered and have accepted an excellent position with a major international service corporation."
-C.C., Atlanta, Georgia
"My previous employer asked me to resign. Your book got me through my depression and in only four weeks got me four job offers. This is the first time in my career that I've had so many options to choose from. Your book helped me increase my salary, and more important, obtain a job with almost unlimited growth potential."
-D.H., North Canton, Ohio
"This book managed to get me a new job driving a beer delivery truck after I slammed my old employer's dump truck into a bridge while hung over.  The next round is on me!"
-I.S., Phoenix, Arizona
"My job search lasted only three weeks and I received multiple offers. Your insight into selling myself helped me find opportunities that would not otherwise have been attainable."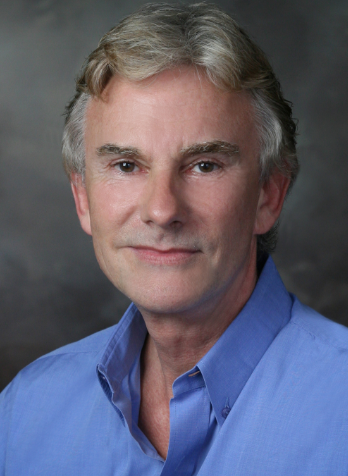 -E.M., Short Hills, New Jersey
"You helped me think and mentally prepare for questions and ways to express past experiences that made me look like I was the top candidate! I have never had such a comprehensive source that addressed all aspects of the job search."
-T.S., Atlanta, Georgia
"Thanks for such an incredible book! It's by far the best I've ever seen, and it's one of the best investments I've ever made. Keep up the good work!"
-C.L., Charlotte, North Carolina
"By following your advice, I have had dozens of interviews. This week I have received three very good job offers. Thank you for your excellent research which has made my job-hunting much easier."
-K.C., St. Louis, Missouri
"I found your book absolutely invaluable during my recent job search. Since then I have spoken with my interviewer, who informed me that it was my strong interviews that landed me my offer. He went on to outline what had turned him off about the other candidates, and it was some of the very same mistakes I used to make before reading your book!"
-D.D., Houlton, Maine
"It worked! I got a job in New York City in less than a week. Thanks for sharing your wisdom with the masses! I'm a happy reader/believer!"
-C.H., New York, New York
"Every time I've used your book I've gotten an offer! This book is incredible. Thanks for publishing such a great tool."
-W.Z., Columbia, Maryland
Martin Yate
Last edited by Commodore (26-05-2011 14:53:29)