William Gayley Simpson
Which Way Western Man ?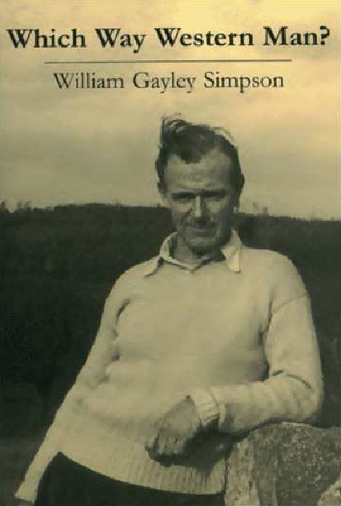 Contents
Preface: To My Reader...
Foreword
Chapter 1. The Undying Purpose: The Ennobling of Man
Chapter 2. The Continuing Search: From St. Francis to Nietzsche
Chapter 3a. Jesus: Tribute and Re-Appraisal
Chapter 3b. Jesus in Retrospect (1950)
Chapter 4. The Meaning of Nietzsche for the Modern World
Chapter 5. An Added Faculty of Perception
Chapter 6. Handbook for Explorers
Chapter 7. The Added Faculty of Perception in the Light of Psychology and History
Chapter 8. Reorientation to Social Problems
Chapter 9. The Inevitable Foundations of Any Sound Society
Chapter 10. The Fallacy and Failure of Popular Government
Chapter 11. The Necessity of an Aristocracy
Chapter 12. Toward an Understanding of Woman
Chapter 13. Woman and Marriage
Chapter 14. The Pacifist Position Re-Examined
Chapter 15. Man and the Machine: The Effect of Industrialism on Human Life
Chapter 16. The Necessity of Eugenics
Chapter 17. The Doctrine of the Thoroughbred
Chapter 18. The Everlasting Truth about Race
Chapter 19. The Fateful Crisis Confronting Western Man
William Gayley Simpson - Which Way Western Man.pdf (4.56 MB)
http://www.balderexlibris.com/index.php … estern-Man
To My Reader. . . . . . . .
You may find in this book ideas or ideals that at first hearing strike you as abhorrent. They may clash with what you have long believed to represent the highest in human experience, or cherish as too holy to be questioned. Or you may find yourself chilled by conclusions that I reach or remedies that I press that you think too drastic. But I would remind you that the disintegration of our whole society is far advanced, that the time allowed us for action is short, and that the peril hanging over us is — fearsome. Extreme emergencies may require extreme measures. Our need is for men of the courage and independence of mind to set aside all taboos, men who will search and reassess the entire experience of our people with discernment and with insight, and will then have the resolution and the dedication to apply to the solution of our problems all the light and the fullest wisdom to which their search has led them — even though it cost them their lives.
And one word more.
In general there is much in each chapter that, if it is to be rightly understood and its spirit fully sensed, must be read in the light of all that has gone before. Therefore, I would urge my reader to avoid skipping around. The reading will surely prove the most fruitful if he begins at the beginning and reads straight through.
William G. Simpson
Last edited by LouSomPauII (20-06-2011 12:11:38)