Eric Adams and Chester Moore
______________________________________________________________________________
Wild Life and Wild Times
______________________________________________________________________________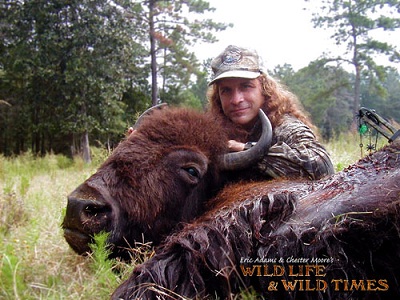 There are lots of hunting and fishing DVDs out there, but how many have heavy metal legends being chased by wild boars and outdoor writers calling in wild sheep to point blank rage and taking them with a bow and arrow? Not to mention the sexy girls handling rattlesnakes as part of a "Ms. Snake Charmer" contest!
This one has all of the above and it is packed with exciting hunting and fishing action filmed in many locations over the course of three years.
During that time, we sweated, bled and nearly froze to death in the pursuit of wild life in some of the most inhospitable habitats to be found anywhere.
In the process, we used 33 arrows, 39 shotgun shells, 16 tree stands, four skinning knives, three sets of binoculars, four video cameras, 48 digital video tapes, flew more than 50,000 miles, drove 3,000 miles and gave 100 percent of ourselves every minute in the field and in the editing studio. This is us, raw and in living color and we believe the quality of the product speaks for itself. So, until next time, enjoy the viewing and embrace the wild!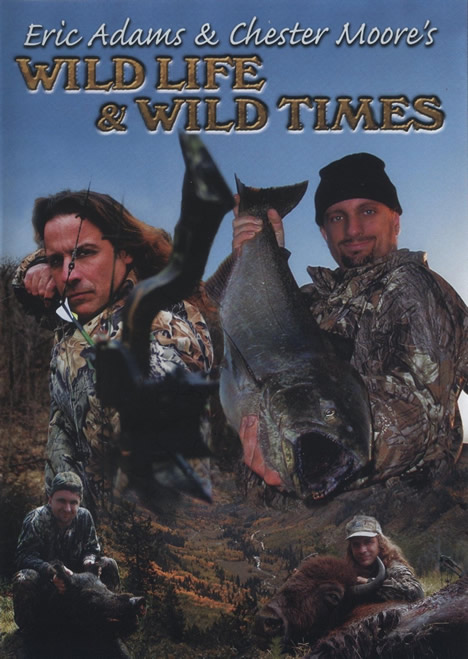 Heavy metal and outdoor adventuring may seem to be disparate entities, but in fact, they have one distinct quality in common: They are both lifestyles. It isn't an easy task to find a "casual" metal fan, just as it is an enviable venture to dredge up an outdoorsman who doesn't live and breathe his craft. There is a distinct sense of passion, devotion and intense involvement to be found within each field making each more than a hobby, but a way of life. Now, Eric Adams - vocalist of the inimitable heavy metal band Manowar - and Chester Moore - esteemed zoologist, outdoorsman, and wildlife journalist - have joined forces to create a unique and exciting look into the adventurous world of outdoor life in Wild Life & Wild Times.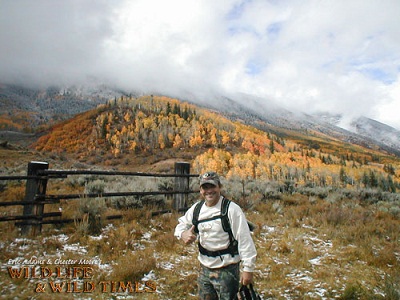 During the course of this visual excursion, Eric and Chester pursue such varied and exotic prey as emus, American bison, king salmon, elk, wild boar, and many more. They also investigate the unique phenomenon of rattlesnake roundups and venture into the night with television host Nathan Jones for a rousing bowfishing trip - which involves a unique bow and arrow rigged with a line and reel. "In the process, we used 33 arrows, 39 shotgun shells, 16 tree stands, four skinning knives, three sets of binoculars, four video cameras, 48 digital video tapes, flew more than 50,000 miles, drove 3,000 miles and gave 100 percent of ourselves every minute in the field and in the editing studio." All of this combined with an instrumental soundtrack composed by Eric Adams results in an outdoor adventure experience unlike any other.
"This DVD is a MUST HAVE! Here is just another example of Eric Adams at FULL THROTTLE!! The wild man that you see SLAMMIN' IT OUT on stage in front of thousands brings the same energy to the hunting arena! I have personally hunted with Eric on many occasions and take it from me: Eric is not your typical hunter and this is NOT your typical hunting DVD!"
- "Wild Extremes" television host Nathan Jones
"Chester Moore and Eric Adams have created a dynamic sonic journey into and out of the precious wildness and wildgrounds of real conservationists everywhere. Wild Life & Wild Times puts you in the belly of the beast and the Good Mother Earth in harmony."
- Rock 'n' roller and renowned outdoorsman Ted Nugent
"Chester and Eric are aggressive participants in the outdoors and they know what they are talking about. They are extremely knowledgeable and passionate about sharing their experiences with others no matter what kind of media they choose. In today's world it would be nice to have more folks like them."
- "Fishing & Outdoor Adventures" and "Hunting & Outdoor Adventures" host Keith Warren
"'Wild Life & Wild Times' is a magically produced, full throttle, hunting adventure. Eric Adams and Chester Moore have created a must have for anyone who appreciates the true spirit of the wild."
- Chris Caffery - Guitarist, singer, songwriter and avid outdoorsman.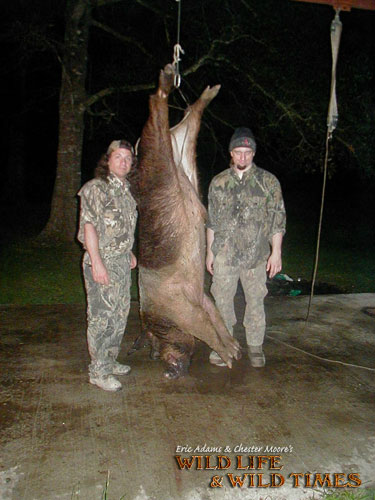 ______________________________________________________________________________
______________________________________________________________________________
______________________________________________________________________________
Eric Adams - Chester Moore - Wild life and Wild times.mkv 833.0 MB
https://mega.co.nz/#!loYA0bpR!Ppud2Go41 … egRbBjer6I
______________________________________________________________________________
______________________________________________________________________________
______________________________________________________________________________
Wild Life & Wild Times
This is exactly what heavy metal legend Eric Adams and award-winning outdoors journalist Chester Moore encountered and experienced during the making of this outdoor adventure chronicle!
The video covers many aspects of the outdoors and features hunts and fishing trips in pursuit of many species including:
The American Bison
Watch as Eric takes the majestic American bison with a bow and arrow.
Rattlesnakes
See one of the unique rattlesnake roundup events and watch as handlers "milk" the venom from these deadly serpents.
Rams
Eric and Chester take to the Texas Hill Country and Pineywoods region in search of Corsican and Hawaiian black rams.
Bull Redfish
Chester and Eric test their tackle and muscles against big, brutal bull reds.
Emu
Hunting these large, flightless birds with a bow is not as easy as one might expect.
King Salmon
Eric and Chester caught specimens weighing more than 30 pounds. The action here is as relentless as the mighty fish.
Bowfishing
Eric and television host Nathan Jones pursue big carp with bow and arrows.
Elk
Relive one of Eric's hunts in the harsh Rocky Mountains of Colorado.
Wild Boar
Nothing is as unpredictable and mean as a wild hog, as evidenced by Eric and Chester's encounters.
This is a fast-paced, in-your-face, outdoors presentation.
That will give all of you the unique opportunity to Embrace the wild!
______________________________________________________________________________
Eric Adams is best known as the vocalist for heavy metal icons Manowar. Having sold more than eight million records worldwide, Manowar has toured the globe and created one of the most loyal fanbases on the planet. Adams' powerful voice is a big part of the success of the band as he is considered one of the top singers in the genre; having the ability to perform anything from blinding speed metal to opera pieces typically sung by the legendary Luciano Pavarotti.
Adams is also a lifelong hunter and fisherman who has pursued fish and game throughout the United States. He is a master bowhunter education instructor in the state of New York and is often consulted on the issues of safety and hunter ethics by state wildlife officials.
"Doing a hunting DVD was the furthest thing from my mind until I met Chester. I must admit, I thought this would be easy. It proved to be not only difficult, but at the same time a true blast! We chased fish and game from the Gulf of Mexico to the Great Lakes-- and what a great time it was.
Every hunter knows that in the field, if something can go wrong, it will. We had our share of mishaps with the camera and tons of bloopers that we decided to show you at the end of this DVD. All in all, I had more laughs making this than I ever expected.
Back home, I was limited to hunting whitetail deer and turkeys. Chester opened up my eyes to a world of different species to hunt. I love having the element of danger ever-present, particularly when we hunted 400-pound-plus wild boar. Now THAT will remind you where all of your nerves are connected!
Writing and performing the music for this DVD was a blast for me. I sat in my studio and just started jamming on the guitar until I heard something that I thought was cool. It's a little different writing music to picture, but my hours in the studio with Manowar made the project flow without a hitch.
Was this DVD worth the hours put into it... absolutely
Was it fun to do... definitely
Will I do another... positively
Until then... sit back and enjoy the wild life
...and wild times."
Eric Adams
______________________________________________________________________________
Chester Moore is a widely recognized zoologist/wildlife journalist/adventurer. His passion for encountering and pursuing wild animals has taken him around the world. His most recent journeys have taken him on cage dives for great white sharks in the Pacific Ocean and to the cactus country of South Texas hunting dangerous wild boar.
Chester is a huge Manowar fan and a heavy metal musician himself, playing in the metal band FREAK13. He met Eric Adams at a Manowar show and the two founded a friendship based on a love for bow hunting and true heavy metal. Moore is the author of numerous books, including the widely acclaimed Texas Reds . He also writes for more than two dozen publications around the world. He has starred in the popular Animal Planet series, Animal X and has appeared on National Geographic television as well as the Outdoors Channel and Fox Sports. Chester is the founder of Project: Zoo Quest, a group that seeks to solve the mysteries of nature and fight for conservation of wildlife.
"Heavy metal and the outdoors might seem worlds apart, but in reality there are far more similarities than you might think. The gentle intro of Manowar's 'Gates of Valhalla' segues quickly into an intense, fist-pumping, headbanging affair. By comparison, stalking through the woods with a bow and arrow can begin quite peacefully, but when you end up having a 1,500 pound bison charge you, things get intense very quickly! True heavy metal fans and outdoors lovers share a common link because they seek the extremes in life.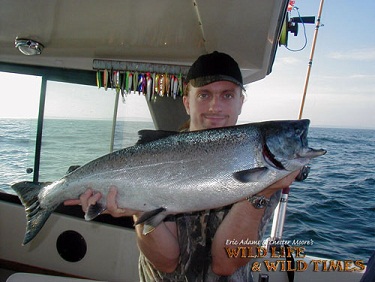 I know because I am both a metalhead and I passionately crave encounters with wildlife. That's the common bond that Eric Adams and I shared as we sought out to film Wild Life and Wild Times. He makes his living singing for Manowar and seeks the outdoors when he is off the road. I make my living in the outdoors industry and I am also a musician in my own band, FREAK13. We were born to do this project together and seek adventure. And did we ever find it!
I could go on for hours about the time we had a hit from a fish so big that it ripped a rod and reel out of a metal holder in our boat while fishing the Gulf of Mexico. I mean, it took the rod, heel, holder and all! Then there's the time Eric and I encountered a herd of vicious wild pigs that literally trapped us in a thicket of thorn bushes. I don't know if he has recovered from that one yet. Then there were early mornings, late evenings, poisonous snakes, pissed off bulls and days so cold hunting in New York that this Texas boy nearly got frost bite.
Why endure this you ask? It's the same reason you stand in line in the rain and cold to see your favorite band play. It's the reason you stand proud in your belief in metal no matter what the rest of the world has to say. This is a lifestyle and I am proud to see. Mine involves hunting, fishing and heavy metal all rolled into a wild life and some very wild times. So sit back, enjoy the viewing and you'll see exactly what I'm talking about.
Stay heavy!"
Chester Moore
______________________________________________________________________________
ENTRY BY: ERIC & CHESTER
POSTED: JUNE 02, 2006
Chester and I would like to introduce you to the ethical world of hunting. It is our hope that we could explain a little about the sport we choose to pursue in the United States, where game populations are healthy due to hunters spending money on wildlife conservation.
In 1900, for example, the wood duck was almost extinct, now they number in the millions. There were only 500,000 whitetail deer throughout North America. Now there are 18,000,000. There were only 500 American Bison (Buffalo). Now there are 500,000. Wild turkey populations were below 100,000. In 2006, there are more than that in the state of New York alone, with more than 4.5 million nationwide.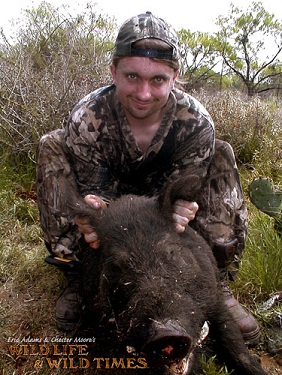 The legal sport of hunting is necessary to help control the population of certain animals. Without hunting, vast amounts of animals would starve because the stronger animals would take the food leaving little for the rest during harsh winters. Others would be involved in road accidents causing harm and even death to humans.
Please take a moment to read the statistics below:
Cars annually kill as many deer as the entire deer population of the North American continent in 1900. Insurance companies report that there are more than 500,000 deer-car collisions reported annually and these result in about 100 human deaths.
Private studies shows the total number of deer hit by cars is up to six times what people claim on their insurance. In the state of Michigan alone, a car kills a deer once every eight minutes.
Wild predators such as coyotes, wolves and bobcats routinely kill up to 70 percent of fawns (baby deer) in some regions, with predation rates across the country totaling in the millions. Even with this predation, deer numbers are increasing, showing that hunters are actually not killing enough deer!
Most importantly, we want everyone to understand that we only harvest what animals we would eat or give to a needy family. We both participate in a program called Hunters for the Hungry that donates about 20,000,000 pounds of wild game meat nation-wide to the hungry. We are committed to wildlife and their preservation all over the world and we also thank our colleagues worldwide who support our efforts.
Eric and Chester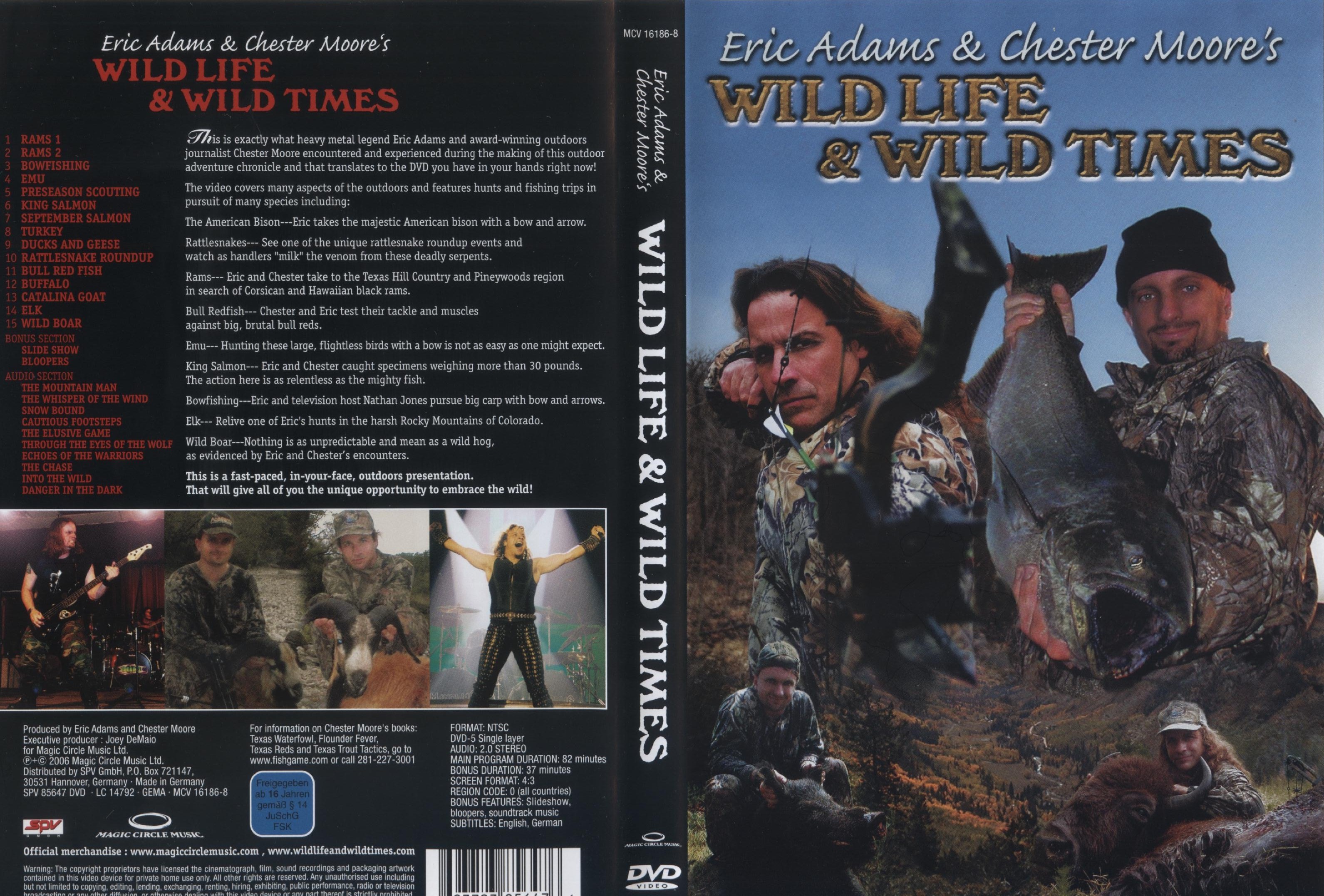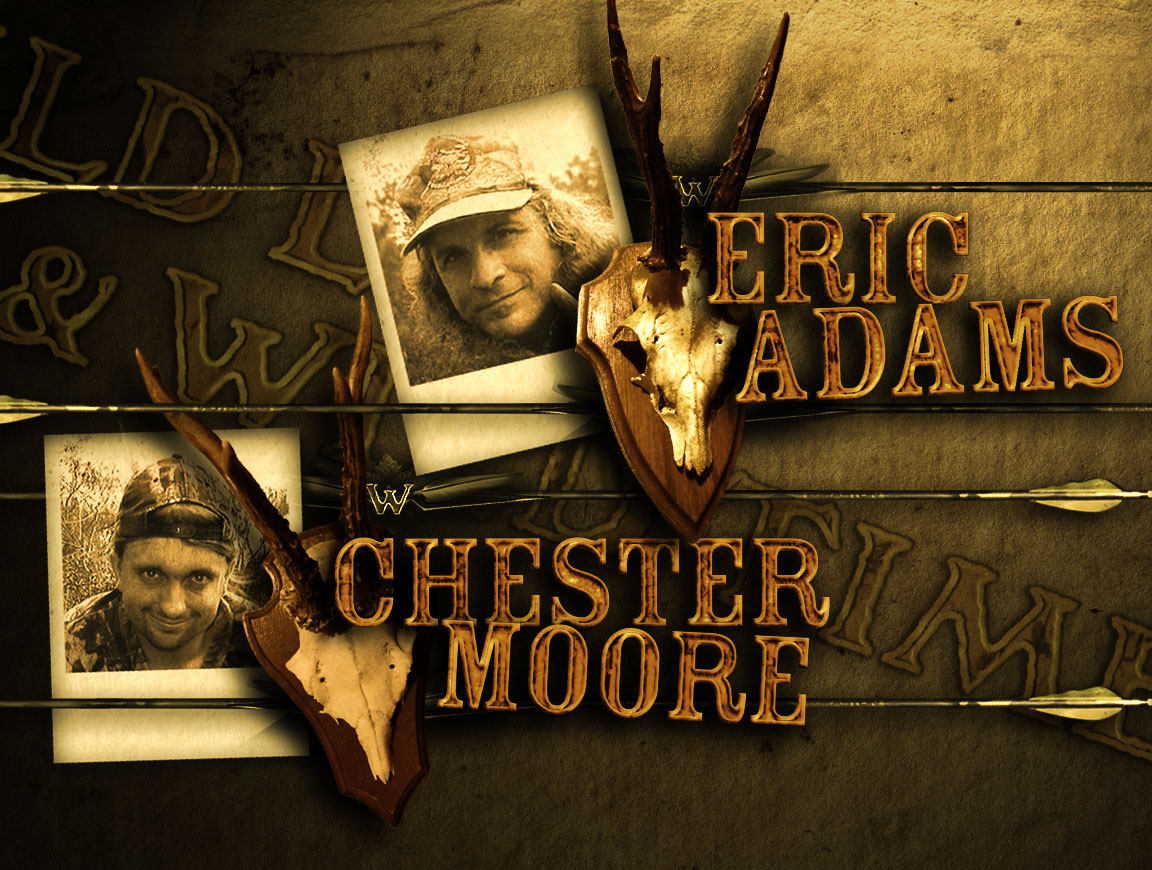 Last edited by Commodore (20-07-2011 23:09:23)