______________________________________________________________________________
Stosstrupp 1917
______________________________________________________________________________
Tourné en 1934, ce film allemand rare sur la Grande Guerre 14-18 est axé sur l'utilisation des troupes d'assaut allemandes lors des affrontements dans les tranchées.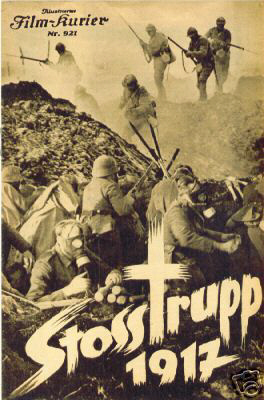 Rather choppy film about the trials and tribulations of the German soldier on the Western Front throughout the year 1917.  A grim look into what the First World War looked like from "the other side".  The concluding scene showing a dying English prisoner in the German trenches surrounded by his sympathetic enemy at the Christmas tree says more about the film's message than anything else.  The film ends with the words, Frieden den Menschen auf Erde --- a Christmas message with broader implications here --- and explains all too well why this film was banned by the Nazis one year later when they came to power.
Stosstrupp 1917 - 1933.avi (696.61 MB)
https://mega.co.nz/#!aZcm0DQT!NK6pri9mr … slBmCu6r0g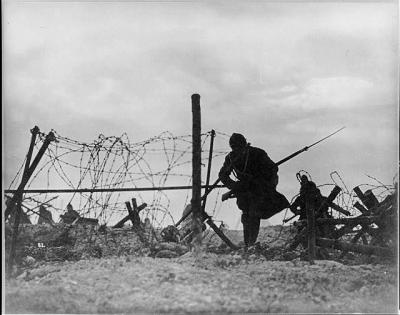 Uneasy lies the countryside beneath the stench of war. Stosstrupp 1917 (Shock Troop 1917) is the story of the steel hurricane known as the Great War, told from the German perspective. Lewis Milestone's All Quiet on the Western Front (1930) had been fiercely pacifistic, and G. W. Pabst's Westfront 1918 (1930) no less so, but while Hans Zoberlein's equally lavish Stosstrupp 1917 is also antiwar, it is more sympathetic to Germany's trench-warfare ordeal. All Quiet on the Western Front and Westfront 1918 are universally hailed as the two greatest First World War films ever produced, based as much on the astonishingly mobile cinematography of Arthur Edeson and Fritz Arno Wagner as on their masterly direction. Regrettable is the omission of Stosstrupp 1917 from this pantheon, for its cinematography by Karl Hasselmann is as uniformly dazzling. An enormous box-office hit upon its release on 20 February 1934, Stosstrupp 1917 was based on director Zoberlein's own war memoirs, Der Glaube an Deutschland, to which Adolf Hitler contributed a foreword; was financed by the National Socialist government; and featured Wehrmacht and SA troops in its cast, which make its invisibility since 1945 more readily comprehensible. The picture has been banned in Germany since the end of the Nazi era. Prints that have circulated since then have been heavily censored and run less than 90 minutes, removing militaristic dialogue and diluting the film's impact and painstaking realism; many of its pyrotechnics, for instance, were produced with real ammunition and explosives. The present release restores 21 minutes of missing footage. Directed by Hans Zöberlein, Franz Adam, Marian Kolb, and L. Schmid-Wildy. Starring Ludwig Schmid-Wildy, Beppo Brem, Max Zankl, Hans Possenbacher.
Germany, 1934, 107 minutes