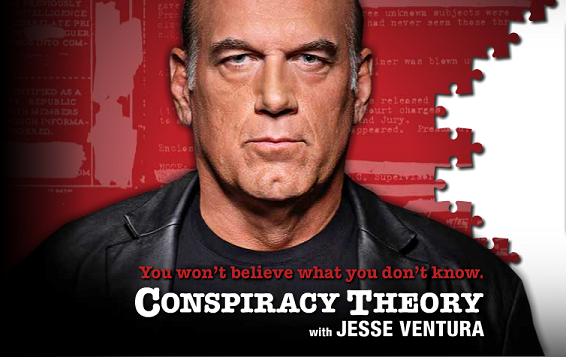 Intégrale de la première saison de Conspiracy Theory avec Jesse Ventura
Conspiracy theory with Jesse Ventura s01e01 - HAARP
http://www.youtube.com/watch?v=iDfwHU7Cw6g
Ventura visits HAARP (the High-Frequency Active Auroral Research Program) in Gakona, Alaska to uncover the truth behind rumors that it is being used as a weather modification weapon, an instrument for mind control, or both.
Conspiracy theory with Jesse Ventura s01e02 - 9-11
http://www.youtube.com/watch?v=hB3OOWsh2Bg
Ventura investigates the rumors of a possible cover-up of the black box recordings from the airliners involved in the September 11 attacks which could contain evidence that 9/11 may have been an inside job.
Conspiracy theory with Jesse Ventura s01e03 - Global Warming
http://www.youtube.com/watch?v=pMeULaT9DQM
Ventura looks at some of the purported evidence that man-made global warming is an elitist scam, and the money trail leads him to the doorstep of an elusive billionaire and a former UN adviser residing in Shanghai.
Conspiracy theory with Jesse Ventura s01e04 - Big Brother
http://www.youtube.com/watch?v=gcmumtSbUT4
Ventura looks into theories about how far the U.S. Government has gone, in the name of national security, to keep an eye on its citizens–including contracting private companies to spy on people and giving special incentives to InfraGard members who report suspicious activity.
Conspiracy theory with Jesse Ventura s01e05 - Secret Societies
http://www.youtube.com/watch?v=bWImgbEDEgo
Ventura infiltrates the Bilderberg Group–a very secretive, annual meeting of elitists who gather in luxury hotels, under heavy security, and supposedly plan the strategies for world domination.
Conspiracy theory with Jesse Ventura s01e06 - Manchurian Candidate
http://www.youtube.com/watch?v=xLkIZ1rygig
Ventura and his crew investigates rumors that the CIA has restarted the project to turn ordinary citizens into programmed assassins and super soldiers through hypnosis, experimental drugs, torture and other methods. He also meets a man who claims to be a real-life Manchurian Candidate.
Conspiracy theory with Jesse Ventura s01e07 - Apocalypse 2012
http://www.youtube.com/watch?v=ItZhqkHTWrI
Some believe the world is heading for disaster in 2012 and Ventura looks into rumors that the U.S. Government has a doomsday plan for saving the elite while leaving the rest of us to fend for ourselves. Ventura also checks out the Denver International Airport where mysterious artwork displayed throughout seems to depict a "road map" of plans for the Apocalypse.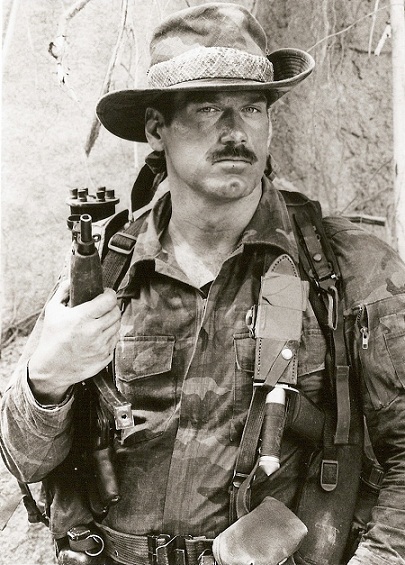 Jesse Ventura and his team of investigators are on a mission to examine some of the most frightening and mysterious conspiracy allegations of our time. They review evidence and meet with experts and eyewitnesses to learn more about such topics as the JFK assassination, Area 51 and a possible plot to kidnap our nation's water supply. "This is my personal journey," Ventura says, "to prove that there is more to these stories than you know about."
______________________________________________________________________________
Jesse Ventura was born in 1951 in Minneapolis. After graduating from high school, he enlisted in the U.S. Navy, where he joined the Special Forces and served as a UDT/SEAL from 1969 to 1973. After being honorably discharged from the Navy, he returned to Minnesota and, while attending community college, started training to become a professional wrestler.
Ventura began his successful professional wrestling career in 1975. In the early to mid '80s, he moved from performing in the ring to color commentator.
In 1987, Ventura starred alongside fellow future governor Arnold Schwarzenegger in the hit film Predator. He has gone on to be featured in numerous films and television shows, including a fan-favorite appearance on The X-Files playing a "Man in Black."
The 1990s saw Ventura enter the political arena, serving as Mayor of Brooklyn Park, Minn., and in 1998 as Governor of Minnesota. After he left office, Ventura was a visiting fellow at Harvard's Kennedy School of Government. He is a New York Times best-selling author of five books and currently resides in Minnesota and Cabo San Lucas, Mexico.
______________________________________________________________________________
June Sarpong Producer/Investigative Reporter
June Sarpong has had a 12-year career which has already seen her become one of the most recognizable faces of British television, as well as being one of the United Kingdom's most intelligent and dynamic young presenters. A media phenomenon, she is equally comfortable interviewing politicians, celebrities and members of the general public.
As the female face of Channel 4's successful Sunday morning strand T4 for the last eight years, Sarpong became part of TV history when she scored access to British Prime Minister Tony Blair for her Channel 4 special When Tony Met June. A popular personality within the world of TV, she was voted as the #1 panelist young people wanted to see on the British political discussion show Question Time. She has also interviewed and introduced some of the world's biggest newsmakers, including Nelson Mandela, Prince Charles, Bill Clinton and Al Gore, as well as such personalities as Bono, George Clooney and 50 Cent.
Sarpong is an ambassador for the Prince's Trust and campaigns for the Make Poverty History movement. For services to broadcasting and charity, she was awarded an MBE (Member of the British Empire) on Queen Elizabeth's 2007 New Years honors list, making her - along with Princess Anne's daughter, Zarah Phillips - one of the youngest people to receive an MBE that year.
Michael Braverman Executive Producer
Producer Michael Braverman established The Braverman/Bloom Co., Inc. as a production and personal management organization in partnership with Barry Bloom. The boutique company works on cutting-edge strategies to optimize crossover opportunities in entertainment, sports and publishing, while also developing projects to best utilize such cross-platform technologies as pay-per-view and online.
Braverman has worked extensively with Jesse Ventura, serving as executive producer of Jesse Ventura's America and later the pilot for Judge Jesse: The Court of Common Sense.
Braverman spearheaded the development of the Project Bigfoot animated series for Discovery Channel, which includes character and story creation, as well as licensing. Bigfoot Presents Meteor and the Little Monsters earned a 2007 Emmy nomination for Outstanding Children's Animation.
Braverman's development and production of the PRIDE Fighting Championship pay-per-view series helped fuel the explosive growth of mixed martial arts. He has also been involved with a number of extreme sports events with several teen and young adult-targeted companies.
Braverman recently co-created and executive-produced Armed and Famous, a CBS primetime reality series with five Hollywood celebrities who served as law enforcement officers with the Police Department in Muncie, Indiana. He also completed a reality pilot for A&E entitled Wrestling My Family.
Daniel Kucan
Daniel Kucan is a writer, designer and performer in Los Angeles, California. He is best known for appearing as a carpenter on the Emmy-winning Extreme Makeover: Home Edition and for serving as the lead collaborative designer at L.A.'s world famous furniture store, Mortise & Tenon.
Kucan grew up in an art conservatory in Las Vegas before attending New York University and eventually settling in Southern California. He is currently an Artist in Residence and serves on the Board of Advisors for the Veterans' Center for the Performing Arts which works extensively with combat vets to help them make the transition back to civilian life.
Kucan is an avid kickboxer and expert in Lama Pai Kung Fu. He trained under the venerable Chan Tai San and Sifu Steve Ventura.
Alex Piper Supervising Producer/Investigative Reporter
Alex Piper's television career includes serving as feature producer for NBC Sports' coverage of the 2000, 2002, 2004 and 2006 Olympic Games, six Kentucky Derbies the Dew Action Sports Tour and the Ironman Competition, among other high-profile events.
His other television credits include producing Beyond the Glory, featuring profiles of Ray Lewis, Anna Kournikova and Mike Tyson, among others. He also served as a supervising producer of TLC's organ-transplant series The Gift. He served as a supervising producer of ABC's Hopkins, a seven-part, Peabody Award-winning series showcasing the lives of doctors, nurses and patients at Johns Hopkins Hospital. And for Lifetime, he served as a supervising producer of Real Women, Real Lives.