The Four Stages of Spiritual Truth
Pastor Peter John Peters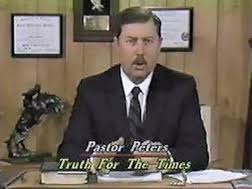 The Four Stages of Spiritual Truth.mp3 (24.15 MB)

This was a Sunday sermon.., or should I call it an analysis of the "Sheeple".., that make up the majority of those that are a part of "Churchianity" today.., or anywhere else in "our great society" for that matter !!
It was spoken by Pastor Peter John Peters (LaPorte Colorado) in 1985.
I consider it to be one of the best of his "classic sermons".., where he is able to translate thought provoking ideals and observations into words that are able to communicate.., "as to where the rubber meets the road" so to speak.., along with his well known humor and sarcasm  :-)
This audio file is 52 minutes in length and has a quality of about an 8.., as it was made from an old audio cassette.  Remember those ?? !!  There's also a few intermittent CB radio interference signals from passing truckers.
______________________________________________________________________________
See also : Sedition, USSA Style - Peter Peters
______________________________________________________________________________
http://www.youtube.com/watch?v=c88-z52vjKk
Peter J. Peters is the pastor of the LaPorte Church of Christ in LaPorte, Colorado, and is evangelistic head of Scriptures for America Ministries Worldwide, an international outreach ministry dedicated to preaching the Gospel of Jesus Christ More.. and to revealing to the Anglo-Saxon, Germanic, and kindred peoples of the world their true Biblical identity.
The background of Pastor Peters is that of a cowhand and rancher. Born and raised in in Western Nebraska, he is a husband, father, and grandfather. A graduate of the School of Agriculture of the University of Nebraska, he subsequently earned a Bachelor of Science degree from Colorado State University in Agricultural Business & Economics. Prior to his entry into the ministry, he enjoyed a successful career with the United States Department of Agriculture.
Pastor Peters received his formal Bible education at the Church of Christ Bible Training School in Gering, Nebraska, from which, after three years of study, he received a baccalaureate degree in Sacred Literature in Bible & Bible-Related Studies.
The responsibilities of Pastor Peters include those of author & columnist, editor, conference speaker, conference host, pastor, teacher, and broadcaster. He has been a guest on nationally-syndicated radio & television talk shows, and has been broadcasting daily on international shortwave radio for almost a decade. He has recorded over six hundred messages on Philips audio cassette, which are available through Scriptures for America Worldwide. In addition, Pastor Peters oversees a tape ministry, which sends out recently-recorded messages twice a month to hundreds of individuals throughout America.
Last edited by Commodore (26-08-2011 22:52:47)