Ellen Kreidman
Light Her Fire
How to ignite passion and excitement in the woman you love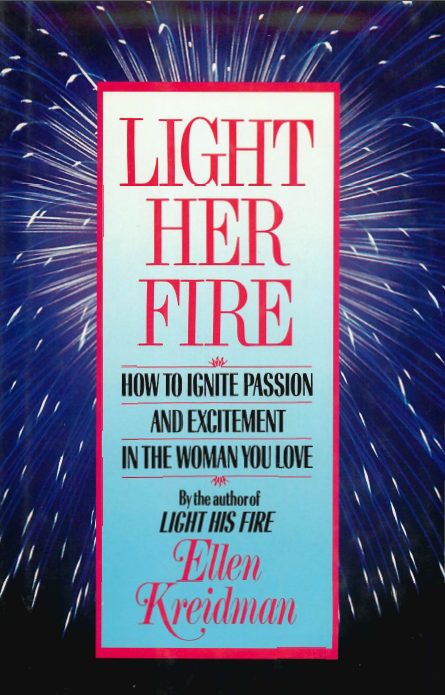 Ellen Kreidman - Light Her Fire.pdf (2.22 MB)
http://www.aryanalibris.com/index.php?p … t-Her-Fire

Ellen Kreidman's first book, Light His Fire, was a runaway New York Times best-seller. Now, in a companion volume dedicated to making the nineties the "passionate decade" Ellen Kreidman tells men exactly what women are looking for romantically.
Light Her Fire is based on the principles taught in Ellen's five-week course for men. For the past ten years, she has been teaching men exactly what a woman seeks and needs in order to keep romance, excitement, and passionate sex alive in a relationship.
When Ellen was touring the country for her first book, the question she was most frequently asked by women was, "Don't you have a book like this for men?" Now she does, and it's filled with smart, lively advice on how a man can put more fun, spontaneity, and communication in his long-term relationship.
According to Ellen, a woman cannot respond to a man physically unless she feels emotionally fulfilled. From "No Signs of Life" to "Fifty-One Ways to Keep Her Fire Lit," Ellen shows men that it takes only a few minutes to enhance their personal lives. By putting Ellen's suggestions into practice, men will grasp what women want and need. They'll learn to express their love—and have a sexy, marvelous time doing it. They'll also learn that a good, exciting relationship—like a great wine—only improves with time.
In My Fair Lady, Henry Higgins asks, "Why can't a woman be more like a man?" The answer is she can't. She is different! Finally, in a clear, concise manner, Light Her Fire will give men the answer to the question they ask over and over: "What does she want from me?"
ELLEN KREIDMAN, founder of the courses "Light His Fire" and "Light Her Fire," has a combined B.A. in psychology and education. For the past ten years she has been a dynamic public speaker who has motivated and educated thousands of men and women. She has had a twenty-four-year love affair with her husband and has three children. Ms. Kreidman lives in El Toro, California.