Paul R. Ehrlich and Anne H. Ehrlich
The Population Explosion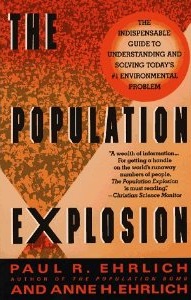 Paul R Ehrlich and Anne H Ehrlich - The Population Explosion.pdf (3.59 MB)
http://www.balderexlibris.com/index.php … -Explosion
THE POPULATION EXPLOSION
When Paul Ehrlich published The Population Bomb in 1968, the population of Earth was 3.5 billion people. Today the population is 5.3 billion people, and growing by 95 million a year. We are supporting the current level of overpopulation only by depleting resources that were created over millions of years-fertile topsoils, ice-age groundwater, and other organisms that are working parts of our life-support systems.
The Population Explosion argues that unprecedented overpopulation is substantially contributing to problems as diverse as African famine, global warming, acid rain, air and water pollution, the garbage crisis, even epidemics such as AIDS. And overpopulation in rich countries such as the United States and other industrialized nations is, in important ways, more serious than rapid population growth in poor countries.
Senator Albert Gore, Jr., says, "Paul and Anne Ehrlich point out that humankind has entered into a brand-new relationship with Planet Earth. For the first time, our numbers threaten the ecological system that supports life as we know it...
"The time for action is due, and past due. The Ehrlichs have written the prescription... If every candidate for public office were to read and understand this book, we would all live in a more peaceful, sane and secure world."
Paul R. Ehrlich is Bing Professor of Population Studies and Professor of Biological Sciences at Stanford University. An expert in ecology, human ecology, evolution, and behavior, he has published several hundred scientific papers and a series of textbooks in these fields. He is a member of the National Academy of Sciences, a Fellow of the American Academy of Arts and Sciences, and current president of the American Institute of Biological Sciences; his many honors include the first Science in the Service of Humankind prize, awarded by the American Association for the Advancement of Science in 1989.
Anne H. Ehrlich is a Senior Research Associate in Biological Sciences at Stanford University. She is author of The End of Affluence, Extinction, and Earth, as well as numerous articles on issues of population, resources, and environment. She was a consultant to the U.S. Government's Global 2000 Report and chairs the Sierra Club's Committee on the Environmental Impacts of Warfare. She has been placed on the United Nations' Global 500 Roll of Honour and is an Honorary Life Member of the American Humanist Society.
"Paul Ehrlich was right in 1968 when he wrote of the menace of The Population Bomb, and he and Anne Ehrlich are right again when they describe the
consequences of The Population Explosion that has now occurred... I can recommend (this book) to all."
-Edward O. Wilson
Harvard University
"The rapid increase in overpopulation is an important cause of our serious environmental problems-one that must be dealt with soon if the United States is to remain a fine place to raise our children and grandchildren. This superb, closely reasoned, and fact-filled book should do much to clear the way for badly needed political action. I recommend it to every American-indeed to every human being concerned with the future of civilization."
-Timothy E. Wirth
U.S. Senator, Colorado
"A brilliant, eminently readable overview of the critical overpopulation dimension of the human predicament... (a) landmark book."
-Peter H. Raven,
Home Secretary
National Academy of Sciences
"The Population Explosion combines relevant science with passionate advocacy.... Send copies to your elected officials-the time to act is growing short."
-Stephen H. Schneider, author of Global Warming
and Climatologist, National Center for
Atmospheric Research
"The Ehrlichs have done more than anyone on the planet to shape understanding of the impact of population growth on the human predicament... No one who cares about the human future should miss this book."
-John P. Holdren,
Professor of Energy and Resources
University of California, Berkeley