Wal-Mart
The High Cost of Low Price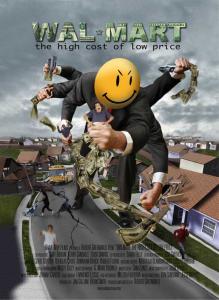 Wal-Mart has become one of America's most successful retail chains by offering everyday goods at low prices for working families.
But just how is Wal-Mart able to charge less than many of their rivals, and what has their success done for their employees?
Documentary filmmaker Robert Greenwald takes a look inside the discount retailer's empire in Wal-Mart: The High Cost of Low Price, and discovers a company short on scruples and long on shabby treatment of the people who work for them.
Release Date: 24/07/2006
Director: Robert Greenwald
Duration: 99 MINS
Language: English (United States)
Country: United States of America
Synopsis :
This documentary takes the viewer on a deeply personal journey into the everyday lives of families struggling to fight Goliath. From a family business owner in the Midwest to a preacher in California, from workers in Florida to a poet in Mexico, dozens of film crews on three continents bring the intensely personal stories of an assault on families and American values.
Featuring interviews with current and former employees as well as owners of small businesses deeply affected by the expansion of Wal-Mart, this expose of what can only be described as a corporate monster is fascinating and terrifying in equal measure.
Last edited by DejuificatorII (06-06-2011 01:25:50)