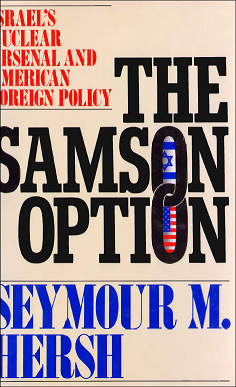 Seymour M. Hersh - The Samson Option - Israel's Nuclear Arsenal & American Foreign Policy

The Samson Option explodes one of the world's most closely guarded secrets, the secret of Israel's atomic arsenal. It relates, for the first time, the political, diplomatic, and military repercussions that have for decades been concealed from the world.
It is also about America's ability not to see what it does not want to see. All American presidents since John F. Kennedy have turned a blind eye toward Israel's growing nuclear capacity while paying lip service to the goal of nuclear nonproliferation.
In The Samson Option, Seymour M. Hersh, the Pulitzer Prize-winner who wrote the first account of the My Lai massacre in South Vietnam, reveals one of the classic clandestine operations of our time: Israel's spectacular underground nuclear facility in the Negev Desert, where its technicians and scientists began manufacturing nuclear warheads in the late 1960s. It describes the bitter infighting within the Israeli government over the bomb and its huge cost. It tells how the money for me nuclear program was raised abroad, and how the early technology was acquired with the aid of France. And it shows how and when Israel threatened to use its nuclear power.