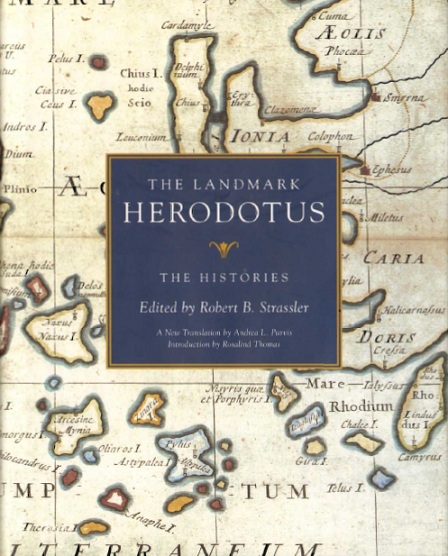 Robert B. Strassler - The Landmark Herodotus
The Histories


The Histories (also known as The History1) of Herodotus is considered the founding work of history in Western literature.2 Written from the 450s to the 420s BC in the Ionic dialect of classical Greek, The Histories serves as a record of the ancient traditions, politics, geography, and clashes of various cultures that were known around the Mediterranean and Western Asia at that time. It is not an impartial record but it remains one of the West's most important sources regarding these affairs. Moreover, it established without precedent the genre and study of history in the Western world, although historical records and chronicles existed beforehand.
Perhaps most importantly, it stands as one of the first, and surviving, accounts of the rise of the Persian Empire, the events of, and causes for, the Greco-Persian Wars between the Achaemenid Empire and the Greek city-states in the 5th century BC. Herodotus portrays the conflict as one between the forces of slavery (the Persians) on the one hand, and freedom (the Athenians and the confederacy of Greek city-states which united against the invaders) on the other.
The Histories was at some point through the ages divided into the nine books of modern editions, conventionally named after the Muses.


From the editor of the widely praised The Landmark Thucydides, a new Landmark Edition of The Histories by Herodotus, the greatest classical work of history ever written.
Herodotus was a Greek historian living in Ionia during the fifth century BCE. He traveled extensively through the lands of the Mediterranean and the Black Sea and collected stories, and then recounted his experiences with the varied people and cultures he encountered. Cicero called him "the father of history," and his only work, The Histories, is considered the first true piece of historical writing in Western literature. With lucid prose that harks back to the time of oral tradition, Herodotus set a standard for narrative nonfiction that continues to this day.
In The Histories, Herodotus chronicles the rise of the Persian Empire and its dramatic war with the Greek city-states. Within that story he includes rich veins of anthropology, ethnography, geology, and geography, pioneering these fields of study, and explores such universal themes as the nature of freedom, the role of religion, the human costs of war, and the dangers of absolute power.
Ten years in the making, The Landmark Herodotus gives us a new, dazzling translation by Andrea L. Purvis that makes this remarkable work of literature more accessible than ever before. Illustrated, annotated, and filled with maps, this edition also includes an introduction by Rosalind Thomas and twenty-one appendices written by scholars at the top of their fields, covering such topics as Athenian government, Egypt, Scythia, Persian arms and tactics, the Spartan state, oracles, religion, tyranny, and women.
Like The Landmark Thucydides before it, The Landmark Herodotus is destined to be the most readable and comprehensively useful edition of The Histories available.