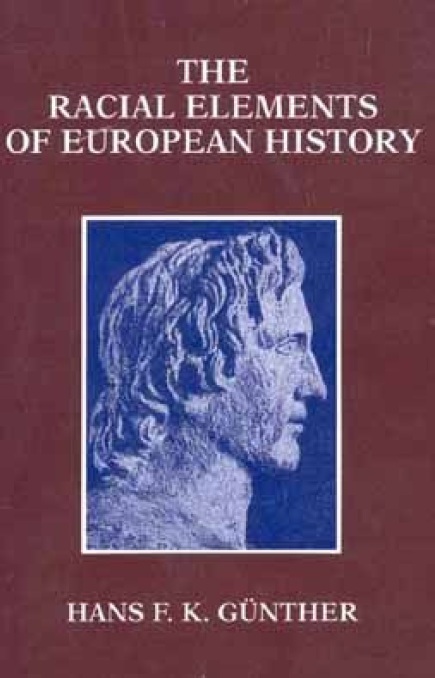 Hans Günther - The racial elements of european history
First Published in 1927 by Methuen And Company, London


Chapter I REMARKS ON THE TERM 'RACE,' ON THE DETERMINATION OF FIVE EUROPEAN RACES, AND ON SKULL MEASUREMENT

Chapter II THE BODILY CHARACTERISTICS OF THE EUROPEAN RACES
Part One: The Nordic Race
Part Two: The Mediterranean Race
Part Three: The Dinaric Race
Part Four: The Alpine Race
Part Five: The East Baltic Race

Chapter III THE MENTAL CHARACTERISTICS OF THE EUROPEAN RACES

Chapter IV RACIAL STRAINS FROM OUTSIDE EUROPE
Part One: Negroid, Hither Asiatic
Part Two: The Jews

Chapter V ENVIRONMENT, INHERITANCE, RACIAL MIXTURE

Chapter VI THE DISTRIBUTION OF THE EUROPEAN RACES IN EUROPE
Part One: Britain, France, Belgium, Germany
Part Two: Spain, Portugal, Italy, north Balkans
Part Three: Scandinavia
Part Four: Eastern Europe, Russia
Distribution Maps

Chapter VII THE EUROPEAN RACES IN PREHISTORY

Chapter VIII THE NORDIC RACE IN PREHISTORY AND IN HISTORY
Part One: Indo-European Migrations
Part Two: The Hellenes
Part Three: The Romans

Chapter IX THE DENORDIZATION OF THE PEOPLES OF ROMANCE SPEECH
Part One: Germany
Part Two: Spain, Italy
Part Three: France

Chapter X THE DENORDIZATION OF THE PEOPLES OF GERMANIC SPEECH

Chapter XI THE PRESENT DAY FROM THE RACIAL POINT OF VIEW

Chapter XII THE NORDIC IDEAL - A RESULT OF THE ANTHROPOLOGICAL VIEW OF HISTORY


Hans Friedrich Karl Günther - English
Hans F. K. Günther - PDF


Hans Friedrich Karl Günther (February 16, 1891 in Freiburg -- September 25, 1968 also in Freiburg) was a German race researcher and eugenicist in the Weimar Republic and the Third Reich. He was also known as Race Günther (Rassegünther) or Race Pope (Rassenpapst). He is considered to be a major influence on National Socialist racialist thought. He taught at the universities of Jena, Berlin, and Freiburg, writing numerous books and essays on racial theory. Günther's Short Ethnology of the German People (1929) was a popular exposition of Nordicism. In 1931 he was appointed to a new chair of racial theory at Jena. He joined the Nazi Party in the following year.