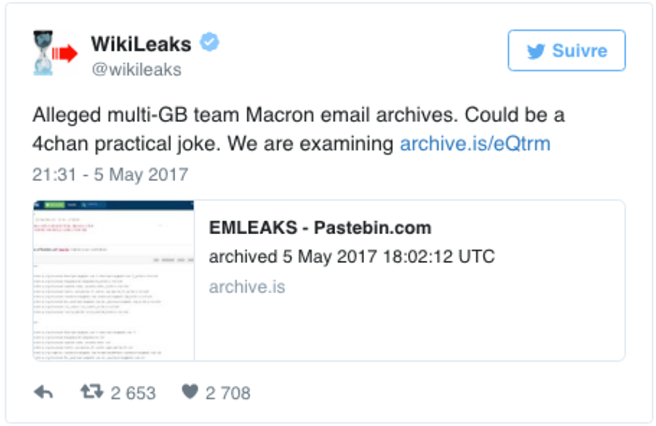 Macron Leaks - archive.org
Archives download


French candidate Macron claims massive hack as emails leaked

Leading French presidential candidate Emmanuel Macron's campaign said on Friday it had been the target of a "massive" computer hack that dumped its campaign emails online 1-1/2 days before voters choose between the centrist and his far-right rival, Marine Le Pen.
Macron, who is seen as the frontrunner in an election billed as the most important in France in decades, extended his lead over Le Pen in polls on Friday.
As much as 9 gigabytes of data were posted on a profile called EMLEAKS to Pastebin, a site that allows anonymous document sharing. It was not immediately clear who was responsible for posting the data or if any of it was genuine.
In a statement, Macron's political movement En Marche! (Onwards!) confirmed that it had been hacked.
"The En Marche! Movement has been the victim of a massive and co-ordinated hack this evening which has given rise to the diffusion on social media of various internal information," the statement said.
An interior ministry official declined to comment, citing French rules that forbid any commentary liable to influence an election, which took effect at midnight on Friday (2200 GMT).
The presidential election commission said in statement that it would hold a meeting later on Saturday after Macron's campaign informed it about the hack and publishing of the data.
It urged the media to be cautious about publishing details of the emails given that campaigning had ended, and publication could lead to criminal charges.
Comments about the email dump began to appear on Friday evening just hours before the official ban on campaigning began. The ban is due to stay in place until the last polling stations close Sunday at 8 p.m. (1800 GMT).