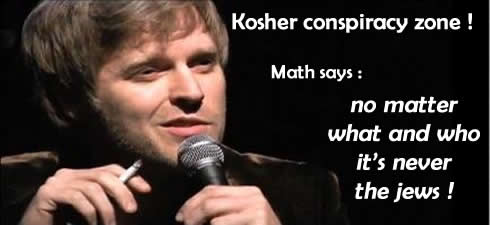 Kosher conspiracy zone !
Math says : no matter what and who, it's never the jews !





Dossier Terre plate
Samuel Birley Rowbotham - Earth not a globe
Flat Earth - PDF
Midgard ou Nasa, Odin ou Moshé
Epurnon Muove - Vidéos VOSTFR - Terre plate


Math Boylan, ex-graphiste de la NASA dénonce cette dernière et ses mensonges par l'humour et le sarcasme. Il aborde entre autre au cours de cette conférence : les satellites, les missions lunaires, les fausses photos de la Terre...



Entrevue avec Math Boylan sur son parcours avant, pendant et après ses aventures avec la NASA.
La Terre Plate a été prouvée il y a 150 ans. Math nous explique comment le mensonge est alimenté depuis.



Flat Earth Luminaries - The Sun, Moon and Stars explained



R. Du Puget - Les Eddas
Rasmus Björn Anderson - Norse mythology
Rudolph Keyser - The religion of the Northmen
Benjamin Thorpe - The Elder Eddas
Peter Munch - Norse Mythology


Math Powerland - Juste pour rire



Flat Earth - The Apocalypse