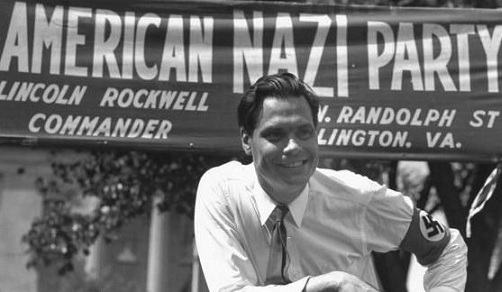 George Lincoln Rockwell

I don't believe for one minute that any 6 000 000 jews were exterminated by Hitler. It never happened. The photographys you've seen passed off as pictures of dead jews are frauds, pure and simple.

George Lincoln Rockwell (né le 9 mars 1918 et mort assassiné le 25 août 1967) était le leader du parti Nazi américain dans les années 1960.
Ancien militaire devenu photographe de publicité, il fonda en 1959 le Parti américain nazi, dont il fut le chef jusqu'à son assassinat. Engagé dans la campagne pour l'élection présidentielle américaine de 1968, Rockwell avait élaboré un programme qui reposait sur le révisionnisme et l'anti-hébraïsme; mais aussi sur le racialisme et l'ethno-différentialisme.