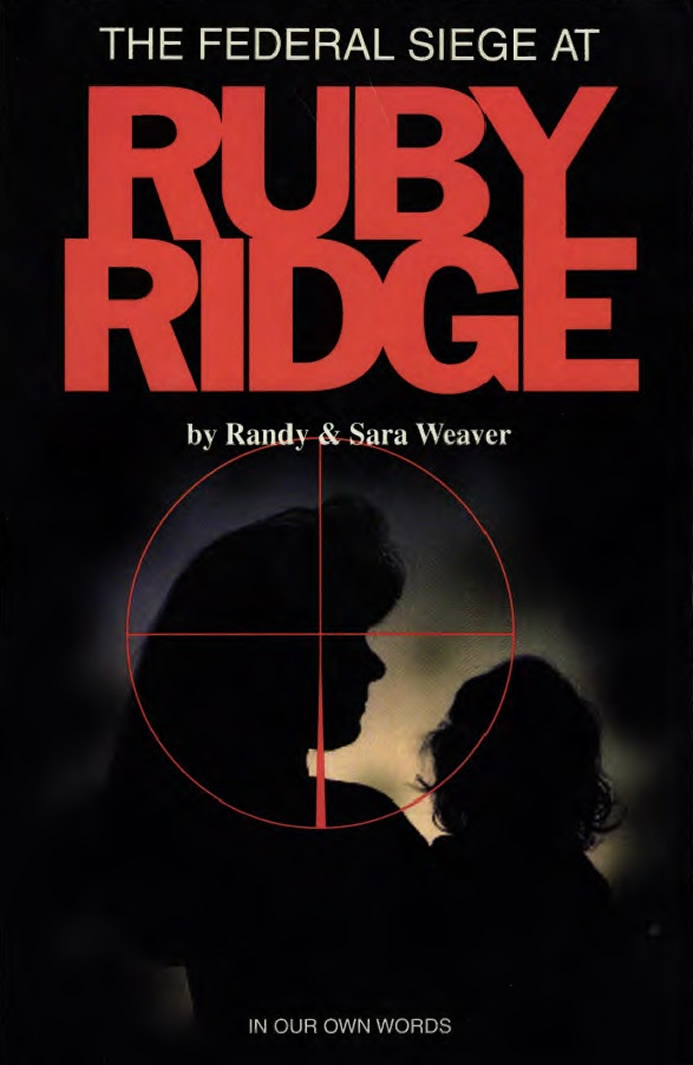 Randy Weaver - Sara Weaver - The federal siege at Ruby Ridge
In our own words

In Loving Memory of Vicki and Sam Weaver Murdered by Federal Agents at Ruby Ridge - August 1992


Foreword
By Colonel James "Bo" Gritz
Every now and then the best of government runs amok. On rare occasion the people respond to reestablish their proper master-servant relationship with such a Frankenstein. When they fail, tyranny prevails. 19 April 1775 marks the "shot heard around the world," when soldiers arrived at Lexington to disarm the American militia. In March 1968, the America ! Division moved on the Vietnamese village of My Lai. There to protect the populace from Communism, they murdered more than 300 women, children and infants. Another such instance of official abuse began at Ruby Ridge, Boundary County, Idaho in August 1992. A "Special Operations Group" maneuvering to apprehend Randy Weaver, shot 14-year old Sam in the back as he ran for home, having already killed his Yellow Lab, Striker. The ambush team then gunned-down one of its own, as William Degan, the most decorated U.S. Marshal, crossed a burst of fire from a silent sub-machine gun.

Governor Cecil Andrus, declaring a state of "extreme emergency," surrendered jurisdiction to federal authority. Dressed and acting in the fashion of terrorists, hundreds of federal militarized police massed with weapons of war on the Weaver cabin vowing "No one will come off that hill alive !" Under "modified shoot on sight rules of engagement," Delta Force trained FBI snipers, without warning, opened fire on Randy Weaver from behind, as he prepared to look in on his dead son. A friend, Kevin Harris was grievously wounded running into the cabin. Worst of all, Vicki Weaver was shot through the face, clutching infant, Elisheba, while holding the door open for her beloved husband and daughter, Sara.
More than a week the two wounded men and three little girls huddled behind the plywood walls of their hand-built home, convinced a predator government would kill them. A 750-pound shotgun equipped robot was positioned at the door to frighten the family with such broadcast taunts as :

"We are having bluebeny pancakes for breakfast. What are you fixing for your family Mrs. Weaver ?" Domestic animals died from neglect and were destroyed when neighbors were forced to evacuate their homes. Jack, a friend and parttime employer, higher up on the mountain, averted a helicopter canying a fuel cell, that he and a TV cameraman were certain was meant to burn the Weavers out.
As if in a Rambo movie, I was called by the FBI to record a statement to the former Green Beret Demolition Sergeant, Randy Weaver. Millions of Americans sacrificed life, limb and liberty to safeguard our nation and citizens from the uniformed terror assembled on Ruby Ridge. There was never a question of over-reaction. It was clear to me the government did not intend to take any prisoners, but getting to the Weavers wasn't easy. The Feds didn't want any outside interference or witnesses, but reconsidered when served with a citizen's arrest.
The valley FBI headquarters looked like a combat firebase with militaiy helicopters, armored vehicles, large tents, mess facilities, motorpools, communication center, heavily armed troops in battledress, and a guarded command post. National Guard patrols prowled the perimeter, while the elite Hostage Response Team ruled the roost. Dick Rogers, a Second Lieutenant in Vietnam, was "king of the mountain" as described by Gene Glenn, the FBI Chief Agent-in-Charge. Rogers' tactical CP, littered with garbage, was down the trail and around from the Weaver cabin about 150-yards. Rogers reminded me of the Star Wars villain, Darth Vader, dressed out in full body armor, helmet, camouflage, and weapon. His 100-man unit mirrored their commander except for M-16 machine guns, Remington 700 sniper rifles and no-see-me "Ghillie" suits.

I first learned that Vicki had been killed when Randy shouted from the cabin that the FBI was "keeping it a secret." Darth Vader met me as I left the hilltop. His arms were extended defensively as he stated: "We targeted Vicki Weaver because the psychiatrist profiled her as the maternal head of the family, who would kill the children before allowing them to surrender." At the bottom, Gene Glenn inquired: "What are we going to do about Vicki Weaver ?" When I responded that her parents were present and I wouldn't allow her death to remain a secret, Glenn asked if he could be the one to tell them. There was never a doubt about Vicki being purposely shot until after the siege was over and a disgraceful cover-up began.
Had I not been a soldier, I would hope to have served in the FBI. Even as My Lai was not representative of the American Military, neither was Ruby Ridge a credit to agents whose motto is "Fidelity, Integrity, Bravery." The difference is that Army Lt. William Calley was charged with murder, while FBI sniper Lon Horiuchi was awarded a medal! In America everyone is supposed to be afforded equal protection under the law. I was appalled at the extremely vicious attitude of Dick Rogers. There were no Efrem Zimbalist, Jr.-types in his HRT. The unit was the same as combat commando teams I have led. They were there to hurt instead of help their quarry. As further evidence of this craving for no survivors, Rogers informed me after Harris was evacuated, and I had carried Vicki's body from the cabin, that if Weaver and his three girls didn't surrender by noon the next day, they would be "taken out !" There was no reason for such a deadline in lieu of steady progress.
No doubt if the rest of the Weavers and Kevin Harris had perished along with Sam and Vicki, the case would have been quickly closed, but thousands of people prayed otherwise. I felt inspired that there was a greater purpose possible if Randy and Kevin could be brought to trial. It was essential for justice that they not only survive the siege, but have representation capable of winning in court.
I telephoned Gerry Spence, briefed him on the situation, and asked him to defend Randy Weaver, which he gave his word to do. In superb style Spence proved defendant innocence and assigned government guilt in Degan's death. Harris left a free man, while it took more than three years for the Department of Justice to award Sara, Rachel, and Elisheba $3.2-million for the wrongful death of their Mother. More than the Weavers, all of America won with their survival and court victory-the monster within government was stayed for a season !
Many books, articles, and even a TV movie were made about Ruby Ridge by people who weren't there. This book is authored by Randy and Sara Weaver, the only people who know a fullness of the truth. Awareness of the facts surrounding Ruby Ridge can help keep the government in its proper place-and with God's Grace grant us all true justice !

Bo Gritz, America's most decorated Green Beret Commander, was featured by General William Westmoreland as "The" American Soldier. Gritz went in rescue of U.S . .POWs. He negotiated a peaceful end to the deadly siege at Ruby Ridge.